Carnival patents high-tech guest medallions
and more news for digital executives ▸ Tech developments at Lowe's, Walmart, 7-Eleven, JPMorgan, Consumer Reports ▸ CxO jobs and career news ▸
Newsletter by Mitch Betts © Ampersand Reports 2018, all rights reserved.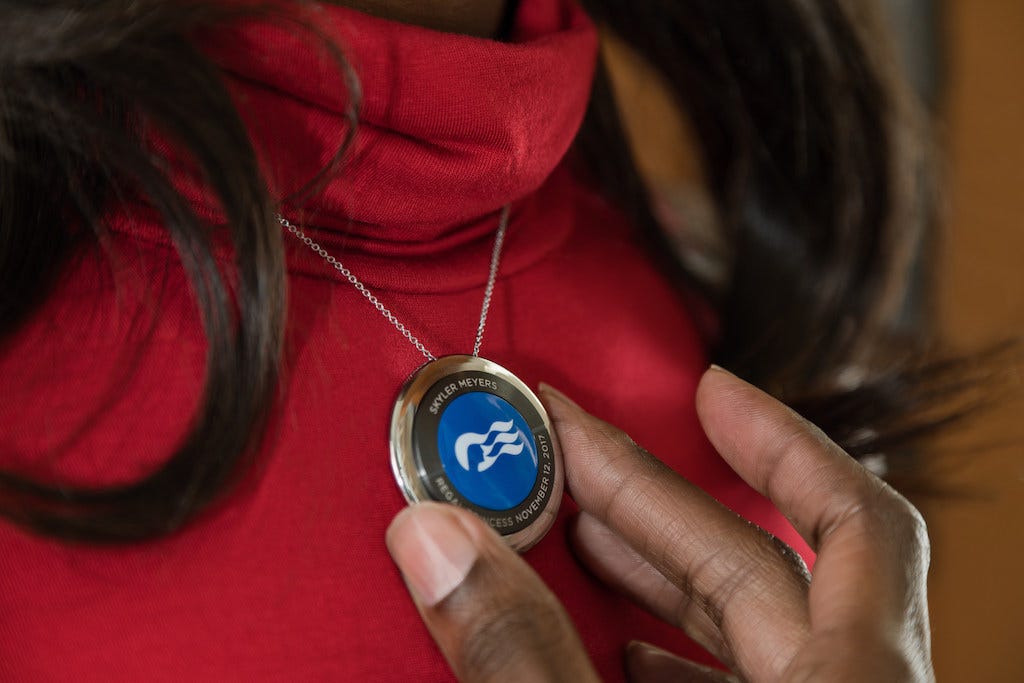 Photo: Carnival cruise line's customer ID pendant, via PRNewsfoto/Carnival Corp.
Carnival's ID pendant and network of wireless sensors provides keyless room entry and personalized service for high-end cruise guests
Carnival Corp., a major leisure travel company, recently obtained three U.S. patents for its innovative OceanMedallion, a wearable ID device that unlocks doors, streamlines food orders and payment, provides navigation advice, and helps the ship's staff provide personalized customer service.
U.S. Patent No. 10,037,642 was issued for the medallion, "which contains a proprietary blend of communication technologies including Near Field Communication (NFC) and Bluetooth Low Energy (BLE), as well as other non-disclosed capabilities," the company said in a statement.
The medallion connects to "an intelligent shipboard network to provide crew members relevant information about each guest to enhance guest-crew interactions and deliver a high level of personalized service," the company said. Carnival has dubbed the guest service technology an "Experience Internet of Things" (xIoT) network — the focus of the company's second patent (U.S. Patent No. 10,045,184).
The company describes the xIoT as "an invisible network of thousands of interactive intelligent sensors and embedded devices mounted throughout the ship, as well as select ports, linking individual guest and crew devices, shipboard software and hardware, as well as synchronized cloud computing to form a unified guest experience platform."
Carnival's third patent (U.S. No. 10,049,516) was awarded for its "smart door portal," which leverages NFC, BLE, proximity sensors and cameras to allow guests to enter their stateroom without the need for a room key or card.
The pendant — which debuted at the CES event in January 2017 — is currently limited to MedallionClass vacations on the Caribbean Princess ship from Princess Cruises, one of Carnival's nine cruise line brands.
The three patents list the lead inventors as John Padgett, chief experience and innovation officer at Carnival, and his team of guest experience professionals, many of whom previously worked at Walt Disney Parks & Resorts (known for its MagicBand wristbands, which are somewhat similar to the OceanMedallion in terms of guest experience).
---
CEO at Lowe's finally finds a CIO — snatched from Target — to fill out his revamped C-suite
Lowe's Companies Inc. on Nov. 2 announced the appointment of Seemantini Godbole as CIO, effective Nov. 12. She currently serves as SVP for digital and marketing technology at retailer Target Corp.
At last report (Sept. 6), Lowe's incoming CEO Marvin Ellison had filled out most of his new C-suite but was still hunting for a CIO who had strong retail experience. The Lowe's announcement explained why Ellison made this pick:
Godbole brings to Lowe's more than 25 years of global technology experience. She helped lead Target's digital technology transformation, including the re-architecture of the company's digital platforms, implementation of agile product management and the introduction of technology for new customer experiences including the mobile applications, buy online and pick up in-store and ship from store programs, guest order fulfillment, digital wallet, localized pricing, and customer loyalty and engagement offerings. Godbole has led development of long-term technology roadmaps, portfolio planning and engineering, operational support functions and e-commerce platforms.
▸ Related: Home Depot, Lowe's hint at digital plans
---
Who's doing what
Microsoft Corp. and Walmart Inc. will open a joint engineering office in Austin, Texas, as part of their new five-year-strategic cloud partnership. Called 4.co, the project will involve engineers from both companies working side by side to develop new internal applications that use Microsoft Azure, as well as migrating existing operations to the cloud. Walmart CIO Clay Johnson said the two companies have already been working on building internal chatbots, starting with a chatbot for employees to ask questions about their benefits packages, using Microsoft's Cortana framework. With Microsoft's help, Walmart also installed temperature sensors in the retailer's refrigeration and freezer systems to avoid food spoilage. — Anna Hensel, VentureBeat
7‑Eleven Inc. is testing a Scan & Pay checkout alternative at 14 of its Dallas-area stores, using the retailer's mobile app, which is already integrated with its loyalty program. Scan & Pay works on Android and iOS devices and is available for all 7‑Eleven merchandise except items that require cashier assistance — hot foods, financial services and age-verified products such as alcohol, tobacco and lottery tickets.
Marta Tellado, CEO of Consumer Reports (CR), recently described several digital initiatives to boost the organization's revenue and customer engagement: ▸ Increased spending on content development, such as providing CR content via Amazon's Alexa and Google Home; Instagram and Facebook; and investigative journalism and data journalism. ▸ Direct links from online CR reviews to purchasing the products at e-commerce partners. ▸ A browser plug-in (in beta testing) for members so that "if you're searching on shopping sites, say Amazon for leaf blowers, for example, and if you have that plug-in, across the top of the screen you're going to see [trusted] ratings and advice from Consumer Reports on the best models." ▸ Selling CR's aggregated consumer trend data to expert audiences — regulators, engineers, product designers. — Chris Roush, Talking Biz News
JPMorgan Chase & Co. made a strategic investment in Inpher Inc., which has pioneered a cryptographic "Secret Computing" platform in which data remains privacy-protected while being processed in machine learning models. 
No paper towels? The "Restroom of the Future" is here, with "secure, proprietary, cloud-based wireless technologies and cutting-edge sensors" so that facilities staff can remotely monitor and analyze restroom conditions, and quickly fix any problems or outages. This Internet of Restroom Things is brought to you by GP PRO, a division of Georgia-Pacific LLC that manufactures paper goods, and TOTO USA, a giant maker of luxury plumbing fixtures.
---
Talent: jobs, appointments, careers
From CIO to CEO to chairman of the board: Vanguard CEO Tim Buckley will become chairman of the $5.3 trillion investment management firm, effective Jan. 1, 2019. Earlier in Buckley's career he rotated through various Vanguard roles, including serving as Vanguard's CIO from 2001 to 2006.
More digital executives were recently appointed to corporate boards of directors:
Job openings for digital executives:
E-commerce company Overstock.com is seeking a chief digital officer in Midvale, Utah. The job involves "working on cutting-edge technology like our award-winning retail app (with amazing AR functionality) and leading blockchain and machine learning technologies," the posting said.

New York & Co. — Retail Winds is seeking a CIO in New York.

BioAgilytix Labs LLC, a Durham, N.C.-based provider of large molecule bioanalytical testing services, is seeking a global CIO. The company is being bought by a private-equity firm in Brussels to provide capital for growth.
Recent career moves by digital executives: