CMOs struggle to reach their digital goals
▸ Well-known CIOs leave Walmart, Bayer/Monsanto, AstraZeneca ▸ Bank of America's patents ▸ CxO jobs and career moves ▸
Welcome to another edition of Digital Business. While there are many sources of opinion & advice about digital business, this publication tells you what's actually happening in corporate America. If you think this is valuable market intelligence, please pass it along and urge your network to subscribe.
— Mitch Betts
Newsletter by journalist Mitch Betts © Ampersand Reports 2019, all rights reserved.
Reply to send feedback & news tips.
---
NEWS
CMOs struggle with digital transformation due to "short-termism." Dentsu Aegis Network's 2019 global survey of 1,000 CMOs highlights a growing challenge for marketing leaders: They recognize the need for long-term business transformation but they're under more pressure to deliver short-term business growth.
83% identify the importance of seamless customer experience and commerce across channels, yet only 60% believe they are developing this capability well.

The divide is quite stark in data management & analytics, where 84% identify these capabilities as important to future success, but only 49% are confident in these capabilities today.

Other key challenges included: lack of integration across all elements of the customer experience; insufficient control over digital investments & programs; and competing C-suite agendas. 
CIO leaves Walmart. Yum Brands Inc. hired Clay Johnson, 49, as the company's Chief Digital & Technology Officer, effective Oct. 15. He was Enterprise CIO & EVP of Global Business Services at Walmart Inc., but is departing shortly after Walmart hired Suresh Kumar as global CTO and Johnson's new boss.
Yum Brands, based in Louisville, Ky., has over 48,000 restaurants worldwide, primarily operating the brands KFC, Pizza Hut, and Taco Bell. Johnson will "ensure the company provides a best-in-class digital journey across mobile, online, delivery, and restaurant operations." Also, global technology risk management and IT shared services teams will report to Johnson.
At Walmart: "Johnson played a key role in leading Walmart's digital transformation … built innovation hubs in Dallas and Austin, Texas, to focus on emerging technologies … [and] moved Walmart's technology organization to a product model with an agile way of working." Johnson was named "2018 CIO of the Year" by CIO Dive.

Gavin Felder, Global CFO & Head of Technology at Yum Brands, is being promoted to Chief Strategy Officer, effective Dec. 1.
Swanson leaves Bayer & Monsanto, returns to Johnson & Johnson. James ("Jim") Swanson has rejoined Johnson & Johnson as EVP & Group CIO in New Brunswick, N.J., according to his LinkedIn profile. He was CIO at Monsanto Co. for almost five years and then another year at Bayer's Crop Science unit, after Bayer AG acquired Monsanto in 2018.
Bank of America banks on IT patents. For the seventh consecutive year, Bank of America is the financial services company granted the most U.S. patents, according to the Intellectual Property Owners Association's annual list of 300 organizations for 2018. Bank of America's patent portfolio consists of more than 3,500 patents and applications, including 24 for its award-winning virtual financial assistant Erica, which has nearly 8 million users and completed more than 55 million client requests since being launched last year.
Advanced technology. Nearly half of Bank of America's 2018 patents relate to pioneering advancements in AI, blockchain, cybersecurity, and mobile banking. Others involve uusing technology to promote accessibility, e.g., voice authentication for employees & customers with disabilities.
Tech innovators. The patents are protecting a competitive advantage, said Cathy Bessant, Bank of America's chief operations & technology officer, in a statement.
"Bank of America's employees are … inventors, not only leading the way in financial services, but also shaping the direction of the technology landscape overall."
Yes, cybersecurity matters in M&A. The (ISC)² — a major nonprofit association of certified cybersecurity professionals — released the findings from its Cybersecurity Assessments in Mergers and Acquisitions report, which surveyed 250 U.S.-based professionals with mergers & acquisitions (M&A) expertise. A top result: 96% of respondents indicated that cybersecurity readiness is a factor when calculating the financial value of a potential acquisition target. Moreover:
77% of M&A experts have recommended one acquisition target over another based on the strength of the cybersecurity program.

57% of survey respondents said an acquiring company they work with has been surprised to learn of an unreported data breach during the audit process. Nearly half (49%) indicated that they had witnessed a merger or acquisition agreement fall through as a result.
Smoley returns from London. David Smoley, after six years as CIO at U.K.-based AstraZeneca plc, has landed a position as a VP at Apple Inc. in Sunnyvale, Calif., according to his LinkedIn profile. The exact nature of his role at Apple wasn't clear, but Bloomberg News said Smoley reports to Mary Demby, Apple's CIO.
Apple connection. Smoley, a member of the CIO Hall of Fame (2013), said he was inspired to become a CIO by Apple co-founder Steve Jobs. In a 2011 InformationWeek article, Smoley said:
Steve Jobs is the reason I am a CIO today. As a high school student in the '70s, the Apple CEO inspired me and lured me toward technology. I went on to major in computer science in college and wrote a research paper on the Macintosh, even convincing the local computer store to let me borrow its only Mac so I could demonstrate it in my class. As an MBA student in 1988, I read "Steve Jobs: The Journey Is The Reward," by Jeffrey Young, and studied Jobs in my leadership class.

I will never forget the lessons I learned — lessons about focus, simplicity, passion, commitment.
---
WHO'S DOING WHAT
Real digital activity in corporate America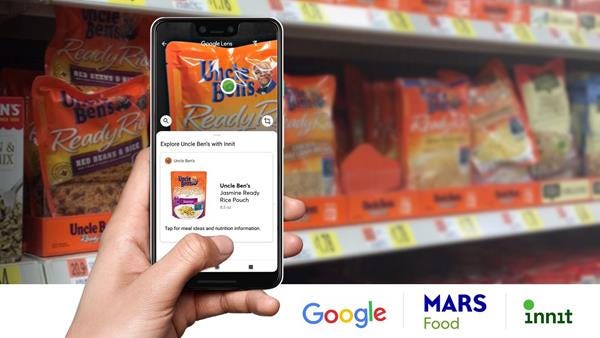 Image: Innit LLC
AI-generated food suggestions. Mars Food, Innit LLC, and Google have teamed up to provide consumers with supplemental information about Mars Food's Uncle Ben's rice products. The boxes feature stickers inviting consumers to point their smartphone — using the Google Lens mobile app — at the sticker "to discover dynamic content powered by Innit, including recipes with ingredient lists, nutrition advice, and step-by-step videos to make cooking simple."
Users already signed up for Innit will also receive personalized shopping recommendations tailored to their preferences or dietary needs.

Google Lens is an image-recognition app designed to display relevant information based on AI-driven visual search.
Approved: UPS drone delivery of medical supplies. The U.S. Department of Transportation gave United Parcel Service of America Inc. (UPS) approval to operate a drone service. UPS is allowed to deliver vital healthcare supplies with drones across the U.S., after testing the program successfully on a hospital campus in Raleigh, N.C.
Baking a batch of digital innovation. Michigan-based Dawn Food Products Inc. — which provides products & services for the bakery industry — opened its first Digital Innovation Hub, located in Boston, under the leadership of Dawn's Chief Digital Officer Bob Howland. The hub will focus on developing digital tools for Dawn's bakery customers, such as online ordering and inventory management.
---
PEOPLE
Executive appointments, promotions, and transitions in corporate America
DuPont de Nemours Inc., based in Wilmington, Del., appointed Amy Brady — who is EVP & CIO at banking company KeyCorp — to DuPont's board of directors, effective Oct. 9.
Slack Technologies Inc., based in San Francisco, appointed Sheila Jordan, SVP & CIO at Symantec Corp., as an independent member of Slack's board of directors.
Goldman Sachs Group Inc. in New York announced two additions to its technology leadership team:
Marco Argenti as Co-CIO, succeeding Co-CIO Elisha Wiesel, who is retiring. Argenti was previously VP of Technology at Amazon Web Services, and will share duties with the other current Co-CIO, George Lee. (Goldman Sachs has a lot of "co-ships.")

Atte Lahtiranta as CTO, succeeding John Madsen. Lahtiranta was previously CTO at Verizon Media Group (formerly Oath).
Walmart Inc., in Bentonville, Ark., appointed Nuala O'Connor as SVP & Chief Counsel of Digital Citizenship, focusing on "how Walmart uses data & technology in a way that supports the company's goal to be the most trusted retailer." She was CEO of the Center for Democracy & Technology, a nonprofit focused on digital civil liberties; and associate general counsel for privacy & data protection at Amazon.com Inc.
Wells Fargo & Co., named Tracy Kerrins as CIO of Enterprise Functions Technology, reporting to Saul Van Beurden, Head of Technology, effective Oct. 21. Kerrins will be based in Charlotte, N.C., and will be responsible for IT for enterprise functions such as HR, finance, audit, legal, and marketing. She was the Chief Operations & Technology Officer at Antares Capital LP.
Nordstrom Inc., based in Seattle, promoted Ken Worzel to COO, "responsible for overseeing & bringing together Nordstrom's digital & physical assets to create an end-to-end experience for customers across full-price and off-price." He was Chief Digital Officer & President of Nordstrom.com.
Rosendin Electric Inc., based in San Jose, Calif., promoted Matt Lamb to CIO, succeeding long-time CIO Sam Lamonica, who is retiring. For more on this carefully planned transition, see: "Anatomy of a succession plan: How Rosendin Electric's CIO filled his own shoes" by Clint Boulton at CIO.com.
The Hartford Financial Services Group Inc., in Hartford, Conn., appointed Deepa Soni as CIO. She succeeds Mark Esposito, who is retiring after a 13-year career with The Hartford. Soni reports to Bill Bloom, head of operations, technology, data and analytics at The Hartford. Soni was previously a CIO at BMO Financial Group.
Global investment firm The Carlyle Group announced that Matt Anderson — former Chief Digital Officer at Arrow Electronics Inc. — has been named Carlyle's first Chief Digital Officer. He is based in New York.
The Hispanic Information Technology Executive Council (HITEC) launched its HITEC Hall of Fame. The inaugural class includes:
Equinix Inc., in Redwood City, Calif., hired Justin Dustzadeh as CTO. He was Head of Global Network & Software Platform at Uber Technologies Inc.
Barnes Group Inc., in Bristol, Conn., appointed Daphne Jones to the company's board of directors and its audit committee. She was previously a digital executive at GE Healthcare (2014-2017, SVP for Digital / Future of Work, and CIO for Diagnostic Imaging & Services); and CIO at Hospira Inc. (October 2009 through June 2014) and at Johnson & Johnson (2006 to 2009). She is also a board member at Masonite International Corp. and AMN Healthcare Inc.
PrimeLending, in Dallas, promoted Tim Elkins to Chief Production Officer. He was previously CIO, but will now "oversee the company's retail production (which includes more than 1,300 loan originators), marketing, and multicultural lending teams, along with retaining his existing technology-related responsibilities."
Charter Communications Inc., in Stamford, Conn., hired Stephanie Mitchko as EVP & CTO. She will report to Rich DiGeronimo, Chief Product & Technology Officer, and have offices in both Stamford and Denver. Mitchko was COO & CTO at Cadent LLC.
Protective Insurance Corp., in Carmel, Ind., named Bahr Omidfar as CIO. He was CTO at CNA Insurance (January 2018 to April 2019).
Aspen Insurance Holdings Ltd. appointed Mary Kotch as CIO. She was previously Global CIO at Validus Reinsurance Ltd. She was recently named one of the "2019 Top 50 Women in Technology" by the U.S. National Diversity Council.
Swagelok Co., a $2 billion private company based in Solon, Ohio, named Chris Nehez as CIO. He succeeds David Krabill, who now oversees the company's Enterprise Program Office.
Ridge-Lane LP, a venture development firm, named several former IT executives to its partnership: Girish Varma, former CIO at CenturyLink Inc.; Kim Stevenson, former CIO at Lenovo Group Ltd. and Intel Corp.; Jim DuBois, former CIO at Microsoft Corp.; and Aamir Hussain, former CTO at CenturyLink.
Planet Home Lending LLC, in Meriden, Conn., hired Muthu Srinivasan as CTO, and Jeffrey Ratter as CIO, according to a company email.
CTO Srinivasan will "focus on the company's major IT projects, including the continued build-out of digital mortgage and enhancements to Planet Home Lending's digital personal mortgage assistant."

CIO Ratter will manage IT infrastructure, including information security, IT support, vendor management, and facilities.
Visible Supply Chain Management LLC, in Salt Lake City, appointed Jim Cochrane to the company's board of directors for his e-commerce expertise. He was previously CMO and CIO at the U.S. Postal Service.
More appointments & promotions: ▸ Bill McArthur, CIO at Resorts World Las Vegas ▸ Michael Kolbrener, SVP & Technology Executive at Bank of America in the Denver area ▸ Deepika Rayala, CIO at Yext Inc. in New York ▸ Parag Agrawal, CIO at Chobani LLC in Norwich, N.Y. ▸ Sujeet Bambawale, Chief Information Security Officer at 7-Eleven Inc. in Dallas (via Heller Search) ▸ Kamila Chytil, COO (in charge of digital transformation) at MoneyGram International Inc. in Dallas ▸ Niki Mangos, CTO at asset-management firm Hamilton Lane Inc. in Bala Cynwyd, Pa. ▸ Andrea Siudara, CIO at Altair Engineering Inc. in Troy, Mich. ▸ Jeremy Manning, CIO at Gulf Capital Bank, a new community bank in Houston ▸ Frank Flanagan, CIO at Equity Trust Co. in Cleveland
Wait, there's more. Editor's note: I've compiled more appointments & promotions than I can fit into this already-lengthy newsletter. If you're interested, here's a link to even more news about digital executives in corporate America.
---
JOB OPENINGS
(links worked at time of publication)
Blue Shield of California, in San Francisco, is seeking a new CIO (reporting to the new COO). The current CIO, Michael Mathias, is moving into a role as growth advisor to the CEO.
PNC Financial Services Group Inc. seeks a CIO in Pittsburgh. Must have 10 years of experience in retail financial services, including risk management.
Columbia Forest Products Inc., in Greensboro, N.C., is seeking a CIO. Company philosophies: A "continuous improvement mindset," and "Get your boots on and go and see."
Farm Credit Services of America is seeking a Chief Data Officer, reporting to the CTO and based in Omaha, Nebr. Salary: $130,500 to $212,070.
Phillips Edison & Co. (PECO), in Cincinnati, is seeking a CIO, reporting to the COO. Must be a forward-thinker about cloud computing, mobile computing, and AI — and "be willing & able to get their 'hands dirty'."
Partners Bank, in Sanford, Maine, is seeking a CIO, reporting to the COO.