Cyber insurance: It's not so great
▸ Smart contracts ▸ Disney's Genie app ▸ Board biases ▸ CxO career moves ▸
Welcome to another edition of Digital Business, a newsletter about real digital activity in corporate America, and the executives leading the way. If you think this is valuable market intelligence, please urge your network to subscribe. — Mitch Betts
Newsletter by journalist Mitch Betts © Ampersand Reports 2019, all rights reserved.




Reply to send feedback & news tips.
---
NEWS
Companies have a false sense of security about cyber insurance. Most CFOs believe that cyber insurance would cover most or all of the losses their company would incur in a cyberattack — but they're wrong, according to a new study by FM Global and CFO magazine.
Are CFOs naive? In a survey of 105 CFOs at companies with revenue of at least $1 billion, 45% said they expected their insurer will cover "most" related losses from a cybersecurity event, and 26% said they expected the carrier to cover "all" related losses. But most of the ramifications these financial executives expect from a substantial cybersecurity event aren't typically covered by insurance policies, said FM Global, which sells cyber insurance. These not-covered effects include: reputational harm, investor scrutiny, and decline in revenue/earnings.
What's covered? New costs to mitigate the loss (e.g., restoring data or equipment), litigation costs, and customer-notification costs.
Smart contracts for the supply chain. National law firm BakerHostetler LP has collaborated with Clause Inc., a software platform for smart legal contracts, to develop automated, digital legal agreements for the freight transportation industry. The blockchain-based platform, called Connected Contracting, turns static contracts into dynamic forms that are integrated with procurement & supply chain systems to reduce administrative burdens.
How it works. The integrated contracts can "respond to real-time internal & external business data, automate the performance of contract obligations, and provide unprecedented visibility into contract events," the companies said. The technology could also be applied to the communications, energy, and manufacturing industries.
Hottest O'Reilly training courses (topic consumption growth, 2018-2019):
Machine learning (up 58%)

Data engineering (up 58%)

Data science (up 53%)

Artificial intelligence (up 52%)
---
WHO'S DOING WHAT
Real digital activity in corporate America
Let the Genie plan your theme-park visit. Walt Disney World Resort plans to offer a mobile app, called Disney Genie, in "late 2020," that will use (unspecified) automation technology to develop a customized guest itinerary for the theme park near Orlando, Fla. For example, guests can request an itinerary geared to princesses, or thrill rides, and the app will "quickly evaluate millions of options to present them with an optimal day." The app will also provide real-time updates, recommendations, navigation aids, and help making reservations.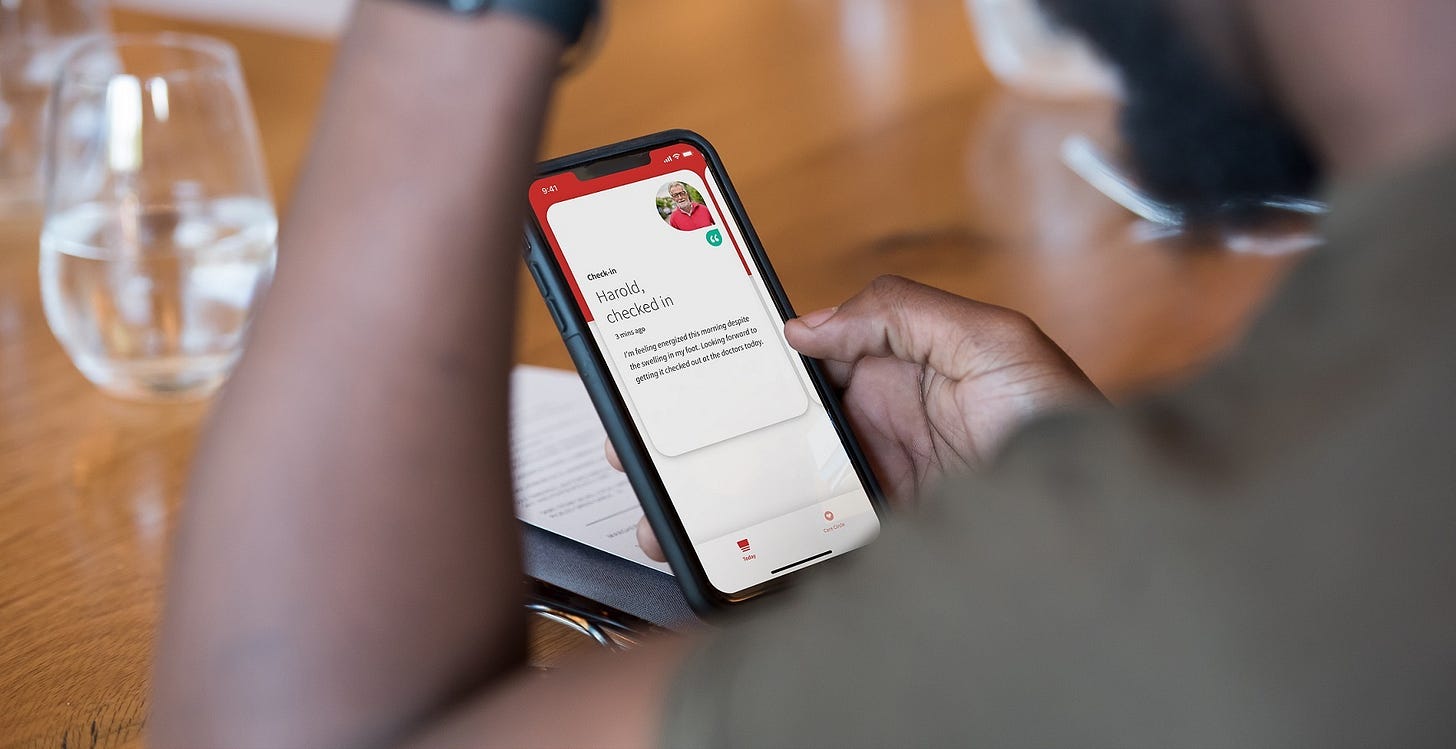 Struggling to care for aging parents? State Farm, a provider of car, home, and life insurance, is working with Amazon on a new Alexa tool that helps people stay in contact with their aging family members. The Alexa skill could allow seniors to stay independent longer in their homes, because their "care circle" of family & friends can stay connected and coordinate care virtually, according to Mark Oakley, SVP of State Farm's innovation labs. A pilot test is underway, with plans to launch broadly in 2020. The seniors will use the voice & touch interface of an Amazon Echo Show device to check in with adult children & caregivers, who use a connected State Farm mobile app to monitor & coordinate care.
Digital retail sales from recent quarterly earnings reports:
Briefly noted:
---
BRAIN FOOD
Five characteristics that hold boards back. Too often the board of directors is afflicted with "stagnating biases" that prevent it from exploiting new opportunities in a rapidly changing business world, according to The Concinnity Company, which focuses on board governance. In a blog post, the company identified five problems:
A defend & extend mentality. Focusing too much on defending & extending the "core" business strategy? "The world will pass you by," Concinnity says. "How many of your conversations are anticipating where your industry will be years down the line?"

Traditionalism.

Techno-phobia.

Only Baby Boomers on board. "Today's boards need a diversity of opinion to thrive — and that means across gender, race, and age," Concinnity says.

Stagnation. Boards need an influx of new members offering fresh perspectives. Consider term limits, or invite outside experts to "stir the pot."
---
PEOPLE
Executive appointments, promotions, and transitions in corporate America
Humana Inc. SVP & CIO Brian LeClaire has moved into a C-suite "strategic advisor" role as he prepares to retire this year, according to Humana's website and a company spokesperson. Sam Deshpande, Humana's SVP & Chief Risk Officer has picked up responsibility for the IT department and a new title: Chief Technology & Risk Officer. The health insurance company is based in Louisville, Ky.
LeClaire's 20-year Humana career. LeClaire joined Humana in 1999 as VP & CTO. According to his company bio: "Brian transformed the information technology organization, gaining efficiencies while positioning Humana for explosive growth…. Brian has received accolades for his exceptional technology leadership and innovative approach to business & IT partnership. In 2005, he was named [one of] Computerworld's Premier 100 IT Leaders, and in 2012, he was named one of Insurance & Technology magazine's 'Elite 8' for leveraging the power of advanced analytics and big data to improve healthcare outcomes."
Cashing out. As he prepares to retire, LeClaire sold 7,239 company shares for about $2.1 million on Aug. 22, according to a public SEC filing.
Segment.io Inc., a "customer data infrastructure company" based in San Francisco, appointed Kimberly Hammonds to its board of directors. She was previously COO and Global CIO at Deutsche Bank, and CIO at The Boeing Co. Hammonds already sits on the boards of Box, Cloudera, Cumulus Networks, Red Hat, Tenable, and Zoom. She is also a member of the Society of Women Engineers, and the Founder & President of The Zoe Foundation, which provides art programs for cancer patients.
Google LLC has quietly hired Arvind KC — former CIO at big-data firm Palantir Technologies Inc. — to be Google's VP of Engineering, according to Business Insider.
MetLife Inc. in New York announced that Bill Pappas will join the company as EVP & Head of Global Technology & Operations, effective Nov. 19, 2019, and reporting to the CEO. He previously held a series of technology & operations positions at Bank of America, including CIO of Bank of America's global wholesale banking business. Pappas is a member of The Federal Reserve Bank of New York's Payments Risk Committee, and a member of the Harvard Kennedy School's Council on the Responsible Use of Artificial Intelligence.
JM Family Enterprises Inc., a $16.3 billion diversified automotive company based in Deerfield Beach, Fla., hired Chad Couch as CIO. He was most recently Global CIO at Brightstar Corp.
Clothing retailer J.Jill Inc., based in Quincy, Mass., hired Deanna Steele as EVP & Chief Information & Digital Officer, company CEO Linda Heasley said during the latest quarterly earnings call. The retailer had a multi-million-dollar IT upgrade on the drawing board, but the CEO has put that project "on hold" while Steele "is reviewing our technology & digital capabilities, as well as the blueprint we developed related to our IT project."
Grant Bourzikas started work as Group Chief Information Security Officer (CISO) at HSBC Bank plc, a banking & financial services organization with 7,500 offices in more than 80 countries. He's located in New York City. Previously Bourzikas was CISO at security vendor McAfee Inc.
Harish Ramani has joined Helen of Troy Ltd. as Global CIO in El Paso, Texas. He was previously SVP & CIO at Flowers Foods Inc., according to his LinkedIn profile.
WSFS Bank in Wilmington, Del., hired Corynn Ciber as SVP & Chief Digital Officer, reporting to Lisa Brubaker, EVP & CTO. Ther goal is to execute the bank's "Delivery Transformation" program, which began in August 2018 when WSFS announced the acquisition of Beneficial Bank and the consolidation of 25% of the combined WSFS and Beneficial retail banking locations. "Half the savings from the consolidations — an incremental $32 million — will be repurposed into a five-year investment in WSFS Bank's physical & digital deliveries, including technologies & solutions that will equip WSFS associates and customers with insights & actionable data to better serve customers' financial needs," the company said. Ciber was previously at Barclays Bank in Wilmington, Del.
Analytics software company FICO, based in San Jose, Calf., announced that EVP & CTO Stuart Wells resigned from the company for personal reasons. Claus Moldt, FICO's CIO, was promoted to Wells' post.
Texas-based transportation company Daseke Inc., amidst a restructuring, replaced the company founder with a new Executive Chairman: Brian Bonner, who earlier in his career was CIO at Texas Instruments Inc. (2000-2014). Bonner has served as a member of the Daseke board since February 2015, and has extensive experience in management, finance, operations, and marketing.
Sur La Table Inc., a privately held retailer based in Seattle, appointed Jason Goldberger as CEO. He was previously CEO at Blue Nile Inc. (an online seller of diamond jewelry), and Chief Digital Officer & President of Target.com.
Volt Information Sciences Inc. hired Bob Houghton as CIO, based at the Orange, Calif., HQ. He previously was CIO-West at NetApp Inc., and CIO at Smith Micro Software Inc.
Genesys Telecommunications Laboratories Inc. named Pranab Sinha as SVP & CIO. He previously was CIO at MACOM Technology Solutions Holdings Inc., according to his LinkedIn profile.
Florist FTD LLC, in Downers Grove, Ill., was purchased by a private-equity firm. Jay Topper, FTD's EVP & Chief Digital Officer, will continue as a member of FTD's executive leadership team.
Health Care Service Corp. CIO Steve Betts has left the company after five years in the role, according to Crain's Chicago Business. His departure follows the exits of the company's CEO and CFO in July.
More appointments & promotions: ▸ Suja Chandrasekaran, Senior EVP & Chief Information & Digital Officer at CommonSpirit Health in Chicago ▸ Andrew Moore, SVP & CIO at Investors Heritage Life Insurance Co. in Frankfort, Ky. ▸ Kelly Coomer, SVP & CIO at Sammons Financial Group Inc. in West Des Moines, Iowa ▸ Richard Scheitler, CIO at Darigold Inc. near Seattle, effective Sept. 3 ▸ Steve Palmucci, CIO at Rentokil Steritech, part of Rentokil North America, in Reading, Pa. ▸ Barb Fuchs, SVP of Data Management at CopperPoint Insurance Cos. in Phoenix ▸ Hugo Lallo, CTO at MindEdge Inc. in Boston ▸ Christopher Lynn, VP & CIO at Southwest General Health Center in Middleburg Heights, Ohio ▸ Janaki Rao, SVP & CTO at Premier America Credit Union in Chatsworth, Calif. ▸ Alberto Ruocco, CIO at West Monroe Partners LLC in Chicago
---
JOB OPENINGS
(links worked at time of publication)
Vertex Inc., a provider of tax technology & services, is seeking a CIO based in King of Prussia, Pa. Requires the ability to communicate with the board of directors, and knowledge of Oracle enterprise software.
Automation Anywhere Inc., a "unicorn" vendor in the robotic process automation (RPA) industry, is seeking a CIO in San Jose, Calif. "This position is for you if you thrive in a … hyper-growth environment [and] can implement IT strategies in a meaningfully different way from traditional methods, employing RPA & digital workers."
Portland General Electric (PGE) is seeking a Division CIO in Tualatin, Ore. The division is Customer Strategy & Operations.
Caliber Home Loans Inc. is seeking a Chief Data Officer in Coppell, Texas. Perks there include "standing desks, complimentary coffee & tea stations, an on-site gym & activities center with ping-pong & pool tables, and an in-house café."
North American Savings Bank, in Kansas City, Mo., is seeking a CIO with prior experience in financial services.
Revantage Corporate Services LLC (RCS) in Chicago is seeking a VP & Chief Data Officer, reporting to the CTO. RCS is a wholly owned company of Blackstone Group LP that provides shared services to Blackstone's global portfolio of real-estate companies. The position oversees "data strategy, data governance, data management, and data science/analytics teams." Knowledge of the real-estate business required.