Digital innovations at Whole Foods, CarMax, Procter & Gamble
and other news for digital executives, by journalist Mitch Betts ▸ FedEx, Walgreens, MGM Resorts ▸ CxO jobs & career moves ▸
Newsletter by Mitch Betts © Ampersand Reports 2019, all rights reserved.

Image: Screenshot of Whole Foods website
Whole Foods filters online product catalog for dietary preferences
Whole Foods Market Inc., based in Austin, Texas, recently launched a product catalog on its website that allows shoppers to find items based on special dietary preferences — such as vegan, Paleo, or Keto-friendly — that are available at their local store, according to Jason Buechel, EVP & CIO.
The high-end grocery chain said that almost one-third of its frequent customers say they shop according to a specific dietary preference. The optimized site lets customers research food options, see nutritional information and ingredient lists, and verify availability at their local store.
The search tool can be used to filter tens of thousands of products via desktop computer or mobile device, both in and out of the store. The full list of searchable preferences includes: vegetarian, vegan, gluten-free, Paleo-friendly, Keto-friendly, sugar-conscious, dairy-free, Kosher, organic, Whole Foods Diet, Engine 2, low-sodium, and low-fat.
---
Who's doing what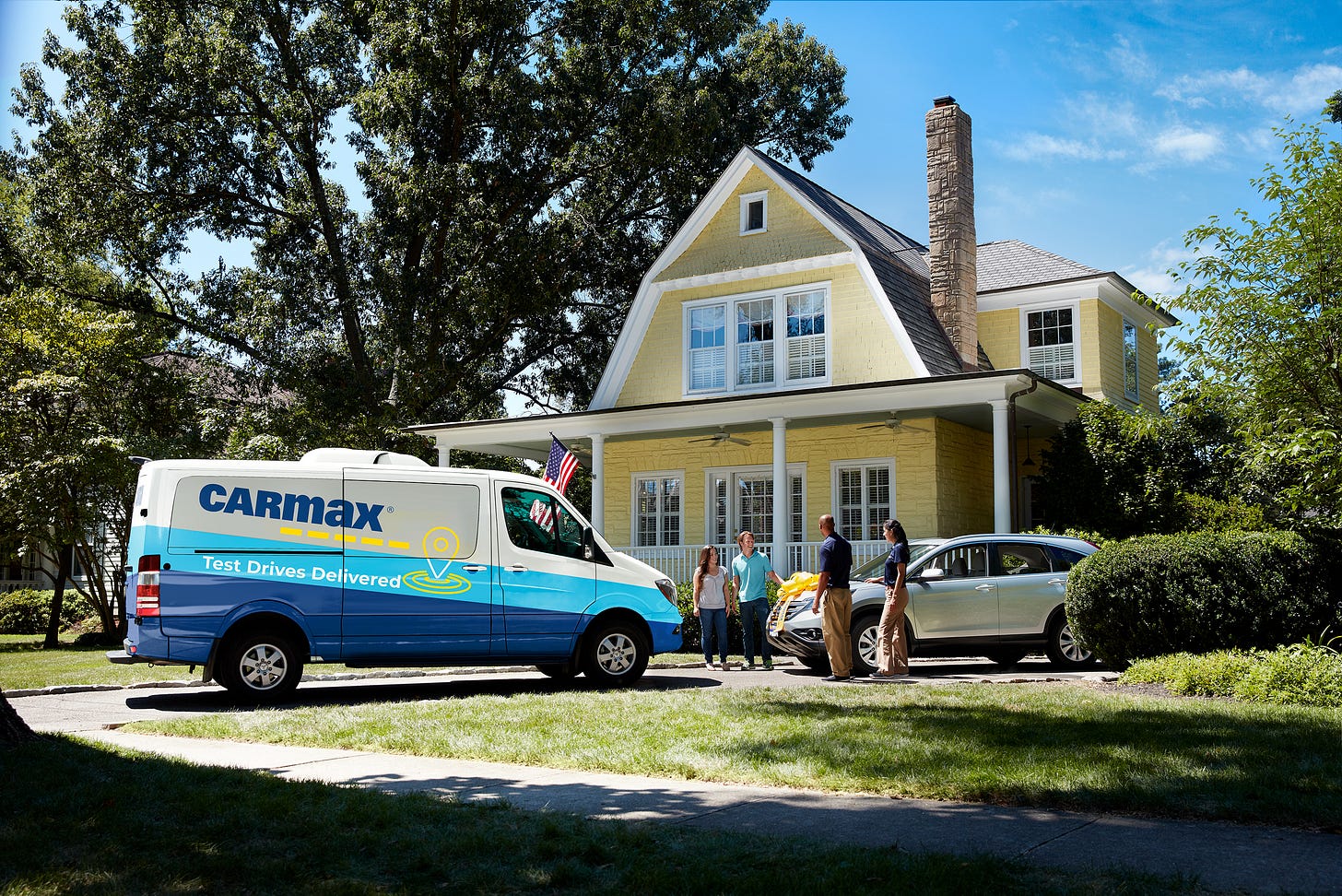 Photo: Home delivery of a used car, CarMax Inc./BusinessWire
CarMax Inc., a Richmond, Va.-based retailer of used cars, announced a personalized car-buying experience — launching first in Atlanta but planned for nationwide rollout — that lets customers buy online from their home, or in-store, or a seamless combination of both. Options include:
Complete the entire car-buying process from home, including financing, appraisal, and paperwork.

Have the vehicle delivered directly to home or work, and test-drive before buying.

Complete most of the process online, then use the new in-store express pickup, which can be completed in as little as 30 minutes.

Hold a car online for seven days, as well as request a transfer from another location.

Return the vehicle within seven days for a full refund.
The company plans to have the omni-channel buying experience available to most customers by February 2020.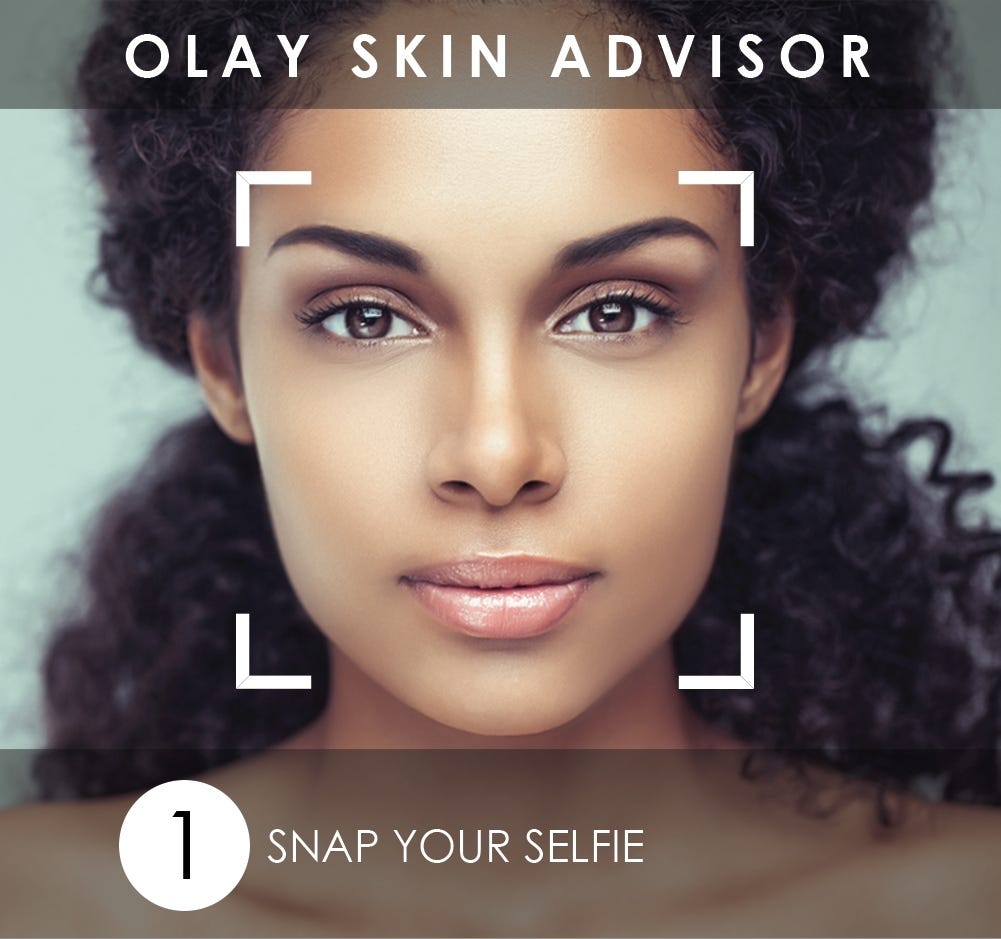 Image: Procter & Gamble Co./BusinessWire
Procter & Gamble Co. made its first foray to the CES event in Las Vegas earlier this month, according to CIO Javier Polit. Featured products included:
Olay's Skin Advisor platform, which uses artificial intelligence (AI) to provide personalized skincare analysis & recommendations by analyzing selfies and a short questionnaire.

Oral-B Genius X toothbrush, which uses AI to analyze how users are brushing and provides personalized feedback for oral health.

Opté Precision Skincare System, combines camera optics, proprietary algorithms, printing technology, and skincare in one device that scans the skin, detects blemishes, and precisely applies a coverup serum.
FedEx Corp. announced plans to cut costs via voluntary employee buyouts, including IT workers. Chairman & CEO Fred Smith identified three reasons:
"We are nearing the end of our IT modernization program, Project Renewal, which began in 2010 to transition FedEx Information Systems into the cloud. Legacy mainframe applications are now being rapidly retired," which means some IT employees can be let go.

The integration of TNT Express with FedEx is nearing its end, "so we will not need the same number of staff positions at the end of this multi-year integration journey."

"We believe new productivity-enhancing tools — from accounting bots, legal system analytics to predictive AI, etc., — will allow us to operate our company with fewer staff positions going forward."
Two companies recently said they are now starting their digital transformations:
Walgreens Boots Alliance Inc.: "We are embarking on a digital transformation across the company. The program starts now and scales up over time," said James Kehoe, global CFO, at a Dec. 20 conference call with financial analysts. One step: a strategic alliance with Verily, Alphabet Inc.'s healthcare subsidiary. The partners will "explore ways to improve access to advanced healthcare technologies and solutions — which may include sensors and software to help prevent, manage, screen and diagnose disease [e.g., diabetes] — with a shared goal of scaling deployment at Walgreens retail locations." Another step: a Jan. 15 strategic alliance with Microsoft Corp. for cloud-based IT infrastructure, AI, data science, retail, and healthcare technologies. (Walgreens' CIO is Steve Turner.)

MGM Resorts International on Jan. 3 launched a program called MGM2020 that includes digital transformation. "Over the next few years, the company expects to reallocate a portion of its annual capital expenditure budget to specific technology advancements that will increase revenues and grow market share by innovating and elevating the guest experience through data, pricing, digital, and loyalty capabilities, and optimizing business mix," the company said in a statement. (MGM's chief digital officer is Kelly Smith.)
Food manufacturer Nestlé S.A. has officially adopted Workplace by Facebook as its primary global communication platform. The company already has about 210,000 employees using the platform and will continue to deploy it this year. "The first wave of market adoption … saw 25 times higher engagement per post and a very high rate of use on mobile devices," the company said.
Callaway Golf Co., based in Carlsbad, Calif., said that it used AI and machine learning to develop premium Flash golf clubs with a "radically different face design to promote faster ball speed in the center region of the face." A new driver face design typically takes eight to 10 iterations, but with machine learning "our computers cycled through 15,000 face architecture iterations, learning from each one, before arriving at Flash Face," the company said.
---
Talent: jobs, appointments, career moves
Digital executives appointed to boards:
AutoNation Inc., based in Fort Lauderdale, Fla., announced a restructuring that included several C-suite changes, including the departure of CTO Tom Conophy. He was previously CIO at Staples Inc. and IHG.
Pike Corp., a North Carolina-based national construction & engineering company for utilities, hired Paul Ramsay as CIO. "As CIO at Pike, Ramsay will be responsible for supporting day-to-day operations and will lead some major initiatives, including implementing Oracle Cloud technology, virtual reality training and performance integration. Additionally, he will be exploring and developing bot applications to boost productivity and maximize accuracy," the company said. Ramsay previously was CIO at Lowe's Home Improvement Inc.
Job openings:
Dominion Energy Inc., in Richmond, Va., promoted CIO Rodney Blevins to President & CEO of the company's Southeast Energy Group (which includes the newly acquired SCANA Corp.).
Employee Benefit Management Services (EBMS), in Billings, Mont., promoted James Vertino from CIO to CEO of the healthcare administration company.
CorVel Corp., in Irvine, Calif., promoted company President Michael Combs to also serve as CEO. He was previously CIO from April 2015 to April 2017.
Wells Fargo & Co. named Saul Van Beurden as its Head of Technology, a new role announced in October 2018. Van Beurden most recently served as CIO of consumer and community banking at JPMorgan Chase. He will join the company in April, reporting to the CEO, and will be based in New York City.
TransUnion LLC, based in Chicago, hired Abhi Dhar as EVP & Chief Information and Technology Officer (CITO). He replaces the retiring CITO Mohit Kapoor.
Masonite International Corp., based in Tampa, Fla., appointed Dan Shirk as SVP & CIO. He was previously VP of information systems at Ascena Retail Group Inc., a clothing retailer with about $7 billion in annual sales.
SpartanNash Co., a food distributor based in Grand Rapids, Mich., hired Arif Dar as SVP & CIO. He was CIO at SC Johnson & Son, a global manufacturer of household cleaning supplies & consumer goods.
National Fuel Gas Co., based in Williamsville, N.Y., announced that CIO Ann Wegrzyn plans to retire Feb. 1, after more than 33 years of service. She will be replaced by Martin Krebs, who was CIO & CISO at Fidelis Care, a health insurance provider.
Jesús Capó, CIO at El Dorado Furniture in Miami, Fla., was named president of the Home Furnishings Association for 2019.
More appointments of digital executives:
Northwestern Mutual, in Milwaukee, named Souheil Badran as EVP & Chief Innovation Officer, replacing Alexa von Tobel. Badran was president of Alibaba's Alipay Ant payment platform in the Americas region. He will be responsible for identifying opportunities in innovation communities and overseeing the company's venture capital funds.

Trustmark Corp., in Jackson, Miss., hired David Kennedy as EVP & CIO of Trustmark National Bank. He was previously CTO at Stone Energy Corp. in Lafayette, La.

Bryn Mawr Bank Corp. named Adam Bonanno as SVP & CTO, reporting to the CEO. Most recently, Bonanno was chief data officer & SVP for innovation & optimization at BB&T Corp.

Vitamin Shoppe Inc., based in Secaucus, N.J., hired Andrew Laudato as EVP & CTO. He was previously CIO at Brookdale Senior Living and Pier 1 Imports Inc.

Cadence Aerospace LLC, in Anaheim, Calif., appointed Kevin Martin as CIO, reporting to the CEO. He previously worked at Pratt & Whitney.

Memphis-based TruGreen L.P., the nation's largest lawn care company, appointed Ayman Taha as CIO. He was SVP of enterprise technology at MGM Resorts International.

Diebold Nixdorf Inc., in North Canton, Ohio, hired Julian Sparkes as SVP & Chief Digital Officer. He was previously a VP at PRGX Global Inc., a big-data analytics firm.

HAAH Automotive Holdings, based in Lake Forest, Calif., named Yvonne Burkhouse as CIO, and Mukesh Rohatgi as VP of IT Services. (The company is parent of Zotye USA, which will sell cars made in China.) Burkhouse most recently was an IT leader at Mazda North American Operations.

Virgin Hotels, based in Miami, hired Denise Walker as VP of IT. She held a similar position at Brookfield Hospitality Properties LLC.

AXIS Capital Holdings Ltd. hired Keith Schlosser as CIO, reporting to the COO. He previously served for seven years as CIO of Chubb's Overseas General Insurance division.

Tire Discounters Inc., based in Cincinnati, Ohio, named Chantell Comberger as VP & CIO.

SmileDirectClub, based in Nashville, Tenn., hired Justin Skinner as CTO. He was previously VP of IT at Adidas, according to his LinkedIn profile.

Chris Zhao joined Sequium Asset Solutions LLC, in Marietta, Ga., as VP of Business Intelligence & Chief Data Officer.

Lockton Companies LLC, a professional services firm based in Kansas City, Mo., named Byron Clymer as CIO, reporting to Said Taiym, chief digital officer.

NASB Financial Inc., in Grandview, Mo., appointed Tim Bachta as EVP & CIO. He was CITO at Shamrock Trading Corp. in Overland Park, Kan.

Lynx Technology Partners Inc., in Pittsburgh, named Will Lassalle as their new CIO. 

Reed Garner joined LINK Staffing, based in Houston, as CIO.

Major League Lacrosse named Thomas (Tom) Johnson as the league's Chief Digital Officer. He previously was director of digital content for Baseball America.

AdminaHealth LLC, in Greenwich, Conn., named Neil Kaufman as CTO. He was CIO at Drayer Physical Therapy Institute.

Privia Health, in Arlington, Va., hired Paul Shenenberger as SVP of IT Operations & CISO. He had similar roles at Summit Health Management of New Jersey.

William Lewkowski joined SolutioNHealth, a regional healthcare network in southern New Hampshire, as CIO.