Digital progress at Domino's, Chipotle, Marsh; trouble at GNC
and other news for digital executives, by journalist Mitch Betts ▸ Pizza tracker ▸ GNC needs a CDO ▸ The Airbnb Effect ▸ Casino innovation hub ▸ More CIOs on boards ▸ CxO career moves ▸
Newsletter by Mitch Betts © Ampersand Reports 2019, all rights reserved.
TOP NEWS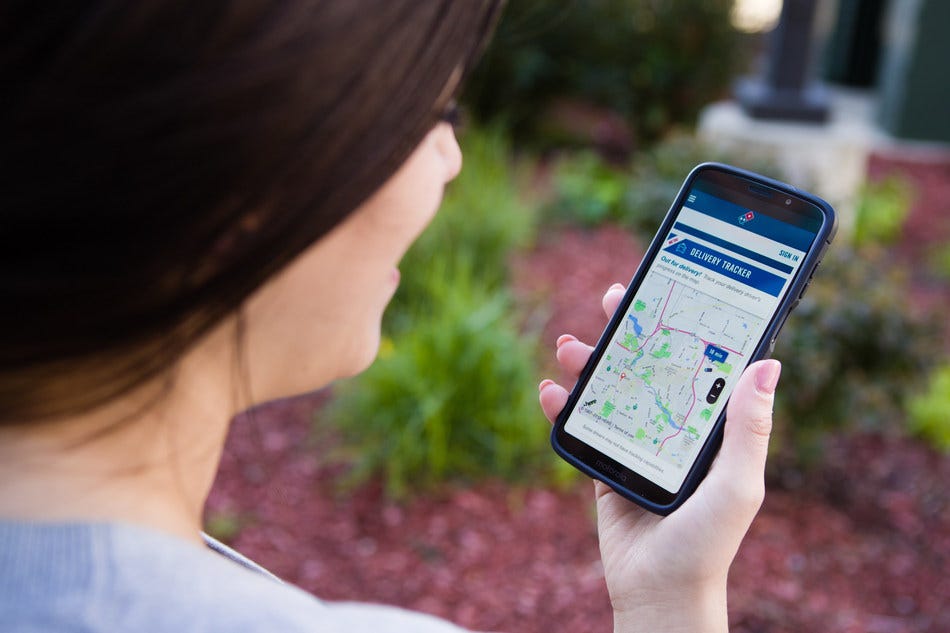 Where's my pizza? Domino's Pizza Inc. is testing GPS tracking for pizza deliveries, starting at 27 corporate-owned stores in Phoenix. Customers can monitor the location of their order and driver via a map from the order-confirmation page of Dominos.com or the Domino's app. They will also receive an estimated delivery time and can opt into text messages when their order is about two minutes away.
"Transparency on orders that are out on the road makes a big difference to customers, as well as drivers and store managers," said Dennis Maloney, SVP & chief digital officer.

The GPS feature also benefits delivery drivers, with optional navigation and one-touch customer callback capabilities. Store managers, meanwhile, will have a driver-tracking screen at the store that will show where all of their drivers are out on the road, allowing them to better manage store operations & deliveries.

The pilot will soon be extended to select stores in three locales: Lansing, Mich.; Roanoke, Va.; and the suburban Seattle-Tacoma, Wash., area.

Factoid: In the U.S., Domino's Pizza generates over 65% of sales via digital channels (online & mobile ordering).
More board power. Margaret (Meg) McCarthy was elected to the American Electric Power (AEP) board of directors. She had been EVP of Operations & Technology, and CIO, at Aetna Inc., before its acquisition by CVS Health Corp. As previously reported, she has also just joined the board of Marriott International Inc.
Long-time CIO retiring. Kathy McElligott, EVP & CIO & CTO at McKesson Corp., is retiring, the Irving, Texas-based company announced. She joined McKesson in July 2015, after CIO stints at Emerson Electric Co. and GE Aircraft Engines. The McKesson announcement said:
"McElligott will stay on with McKesson until her successor has been named to ensure a smooth transition; the company will conduct an internal and external executive search."
Digital topspin. The 2,500-unit Chipotle Mexican Grill Inc. restaurant chain had a stellar first quarter of 2019, fueled by a 100.7% increase in digital sales (year over year).
Digital sales accounted for 15.7% of total sales for the quarter. CEO Brian Niccol attributed the online success to the "flywheel effect" from the combination of digital-related initiatives: online ordering; a separate meal-preparation line and pickup shelf for online orders; and delivery, usually in less than 30 minutes. Online orders tend to have higher tickets and higher profits, executives said.

Moreover, Chipotle's new loyalty & rewards program already has 3 million members. "We believe that Chipotle Rewards will be a key element that will provide topspin for our digital system, which was again a key driver of our sales growth," Niccol said in an April 24 analyst teleconference.

The company will be using the loyalty program to collect consumer data and deliver personalized marketing messages to change behaviors — e.g., a "light user becoming a medium user, a non-user becoming a light user," Niccol said.
The Airbnb effect. The exponential growth of lodging service Airbnb Inc. is devouring an increasing share of hotel revenues and also driving down hotel room prices and occupancy rates, according to a study by Tarik Dogru, an assistant professor at Florida State University's Dedman School of Hospitality, published in the journal Tourism Management. Dogru found a 1% increase in Airbnb's lodging supply lowered hotel revenues between 0.02 and 0.04%, which he estimated in New York City alone would have amounted to a loss of $91 million to $365 million in one year. In related news:
CDO to dot-com president. Atlanta-based Edible Arrangements LLC named Carissa Ganelli — former Chief Digital Officer at Subway Restaurants — to the position of President of Edible.com, the company's largest division. Her portfolio will include e-commerce, technology infrastructure, digital products & programs, and development of emerging technologies.
The announcement said that, under Ganelli's leadership, Subway's e-commerce revenue doubled, app downloads tripled, and loyalty member enrollments increased tenfold. She also led the launch of Subway's new mobile app, launch of Subway's international loyalty program, and development of its voice ordering system.
Former Tesla CIO on board. HyreCar Inc., a car-sharing marketplace based in Los Angeles, appointed Jay Vijayan to its board of directors. He is founder of a Silicon Valley startup (Tekion Corp.) and was CIO at Tesla Inc. from 2012 to 2016.
Wanted: CDO to fix e-commerce. GNC Holdings Inc., a vitamins & supplements retailer based in Pittsburgh, is concerned about declining & unprofitable e-commerce sales in the Amazon marketplace, according to Chairman & CEO Ken Martindale.
The company is working to remove "gray market" products from Amazon, and remove products that aren't profitable to ship quickly in the Amazon Prime program. "We are also conducting an aggressive search for a Chief Digital Officer," Martindale said in an April 24 analyst teleconference.

GNC also has an opening for a Director of E-commerce with P&L responsibility for its own website GNC.com.
Retired CIO on board. Shareholders at Cincinnati Financial Corp. re-elected Linda Clement-Holmes — former CIO at Procter & Gamble Co. (now retired) — to a one-year term on the insurance company's board of directors.
---
WHO'S DOING WHAT
Real digital activity in corporate America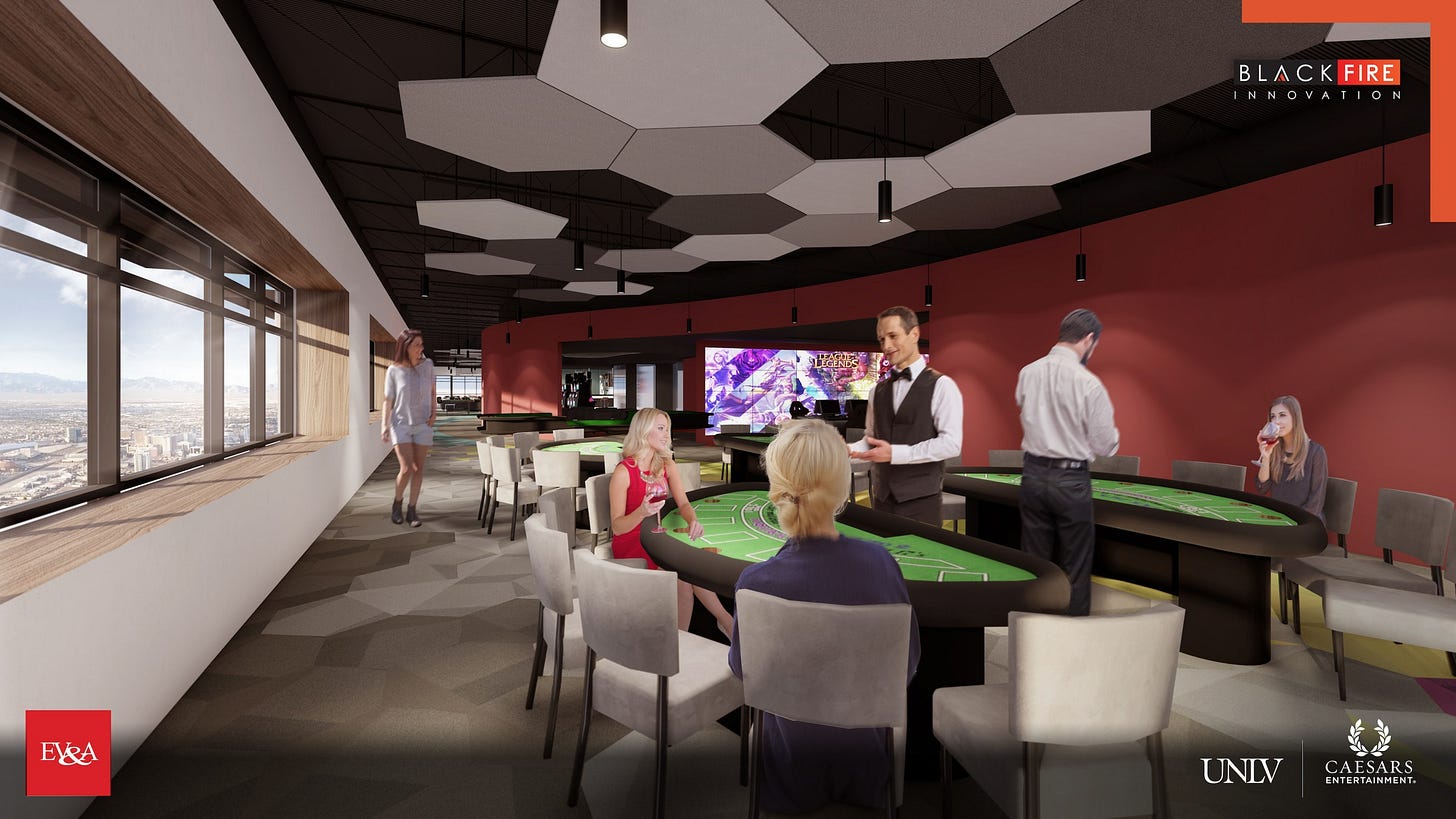 Caesars Entertainment Corp. and University of Nevada, Las Vegas (UNLV) plan to open "Black Fire Innovation," a technology hub where new gaming & hospitality concepts will be created & tested. It's a 43,000-sq.-ft. innovation space that will include mock hotel rooms, a casino floor, and virtual reality (VR) facilities. The complex is expected to open by the end of 2019 at the UNLV Harry Reid Research & Technology Park located in southwest Las Vegas. Casino professionals, researchers, students, and entrepreneurs will be able to work side-by-side on emerging technologies, which may include VR, blockchain, and artificial intelligence (AI), according to Caesars EVP & CIO Les Ottolenghi.
New York-based insurance broker Marsh, a subsidiary of Marsh & McLennan Cos., said it will begin rollout of its Proof of Insurance Blockchain platform to U.S. commercial clients. A self-service digital app lets Marsh clients search, view, issue, and re-issue their proof-of-insurance certificates on-demand 24 hours a day, according to Sastry Durvasula, chief digital officer and chief data & analytics officer.
Walmart Inc. has turned a store in Levittown, N.Y., into an "intelligent retail lab" with thousands of AI-enabled cameras and shelf sensors to monitor the store. The goal is to allow employees to quickly replenish products or fix other problems. The technology spots spills, tracks when shelves need to be restocked, and knows when shopping carts are running low, the Associated Press reported. In the back is a data center with over 100 servers to handle the AI, real-time analytics, and huge amount of data from the cameras & sensors — 1.6 TB of data per second.
New York-based JPMorgan Chase & Co. — the fifth largest corporate IT spender in the U.S. last year (per IDC) — is spending half of its $11.5 billion technology budget on running existing operations and half on innovative change, according to CFO Marianne Lake. During an April 12 analyst teleconference, Lake said the bank is increasing the portion of the technology budget devoted to transformation. "That runs the gamut from platform modernization and cloud to controls and security and customer experience and digital, R&D and the whole lot," she said. "Last year we were kind of 60-40 run the bank [vs.] change the bank — and it's more 50-50 this year."
More than 140 companies — tech vendors plus retailers such as IKEA, Target, Lowe's, Wayfair, and Williams-Sonoma — formed a group to explore the development of common standards for 3D imagery used for augmented reality & virtual reality (AR/VR) shopping. The goal: realistic 3D product images that can be distributed & used for AR/VR on all devices.
Briefly noted: ▸ FedEx Corp. EVP & CIO Rob Carter signed a 10-year deal with IT infrastructure provider Switch Inc. to serve as FedEx's western U.S. data center. ▸ Regions Bank will be using IBM's Banker Assist AI technology to help employees answer customer questions. ▸ Humana Inc. and Doctor On Demand are jointly offering a service, called On Hand, that provides virtual medical care (e.g., online & video doctor's visits, and secure messaging) at lower insurance premiums. ▸ American Bureau of Shipping (ABS) and Google Cloud completed a pilot project that shows AI models can successfully detect levels of corrosion on ships and offshore structures.
---
THE DIGITAL ECONOMY
Signposts from the digital milieu
▸ Global spending on digital transformation products & services will reach $1.18 trillion in 2019, a 17.9% increase over 2018. Biggest spenders: manufacturing industries. (IDC) ▸ There will be more U.S. homes with smart speakers than without by the end of next year. The 50% threshold will be reached in late 2020. (Strategy Analytics projection) ▸ Worldwide IT spending is projected to total $3.79 trillion in 2019, an increase of 1.1% from 2018, but that's a downward revision due to "uncertain economic & political environments and trade wars." (Gartner) ▸ The collaboration network Workplace by Facebook has 2 million paid users. Corporate customers include Nestlé, Vodafone, GSK, Telefonica, AstraZeneca, and Delta Air Lines.
---
PEOPLE
Appointments, promotions, transitions
Duluth, Ga.-based AGCO Corp., a worldwide manufacturer & distributor of agricultural equipment, said Sondra Barbour was elected to its board of directors. She was formerly EVP of Information Systems & Global Solutions at Lockheed Martin Corp. (now retired).
Walgreens Boots Alliance Inc. confirmed the previously reported news that it hired former Walt Disney Co. executive Gunjan Bhow as Chief Digital Officer, along with several other new C-suite members.
Xerox Corp. in Norwalk, Conn., appointed Naresh Shanker as SVP & CTO — in charge of R&D and IT — effective May 6. He will succeed Steve Hoover and report to the CEO. Prior to joining Xerox, Shanker was CIO of HP Inc.
Eatsa (aka Keenwawa Inc.), a restaurant technology provider based in San Francisco, appointed Adam Brotman as CEO. He was previously Chief Experience Officer at retailer J.Crew Group Inc., where he was responsible for launching their first loyalty program, and Chief Digital Officer at Starbucks Corp. Tim Young, former CEO and Eatsa co-founder, will continue to lead product innovation and technology development for the company in the role of CTO.
Charlotte, N.C.-based steelmaker Nucor Corp. said that Joseph (Joe) Stratman — who has held many executive roles at the company, most recently as EVP & Chief Digital Officer — plans to retire June 8, after more than 29 years of service with Nucor. The company said "Ray Napolitan will assume responsibility for Nucor's digital initiatives" while continuing as EVP of Engineered Bar Products.
Bed Bath & Beyond Inc., in Union, N.J. — while overhauling its board of directors — appointed Harsha Ramalingam as a new independent director, effective May 1. He was Global VP of the e-commerce platform at Amazon.com Inc. for over six years, from December 2008 to June 2015.
Hershey Co. announced that Terrence (Terry) O'Day — now the company's Chief Product Supply & Technology Officer — will become Chief Technology & Data Officer effective June 1. "O'Day will continue to oversee Hershey's end-to-end technology and data strategy," the company said, including IT, ERP, and digital transformation.
Axalta Coating Systems Ltd., based in Philadelphia, promoted Ashish Jawadiwar to Chief Information & Digital Officer, reporting to the CEO.
Eric Dorne will continue to serve as CIO & Chief Administrative Officer at United Natural Foods Inc. (UNFI), in a unified C-suite following the company's acquisition of SuperValu Inc.
Columbia, S.C.-based Dovetail Insurance, an insurance technology startup owned by Victor Insurance Holdings, appointed Michael Ferber as CEO. He was previously CIO at ICAT, a digital-based underwriter of U.S. catastrophe insurance, also owned by Victor.
More recent appointments & promotions: ▸ Samuel Kirsch, Chief Digital Officer at First National Bank, the largest subsidiary of FNB Corp. ▸ Frank Vedder, SVP & CIO at Life Care Services LLC ▸ Jason Andrew, EVP & CIO at Uwharrie Capital Corp. (in January 2020) ▸ Sanjay Lall, EVP & CIO at Americold Realty Trust ▸ Elaine Cheng, CIO at Shenandoah Telecommunications Co. ▸ Deepak Suri, CIO at ArmadaHealth ▸ Bill Quinn, SVP of Digital Commerce, and Ron Blahnik, SVP & CIO, at Hibbett Sports Inc. ▸ Sheila Hoover, Chief Information Security Officer (CISO) at First Commonwealth Bank ▸ Mehmet Gӧker as Chief Data Officer, and Kevin Paige as CISO, at Flexport Inc. ▸ Michael Baker, CTO at MarketAxess Holdings Inc., reporting to CIO Nick Themelis ▸ David Ballard, SVP of Enterprise Services at Ladenburg Thalmann Financial Services Inc.
GameStop Corp., based in Grapevine, Texas, appointed Lizabeth Dunn to its board of directors. She is an IT and retail consultant.
Kurt Schnieders, former CIO at Dick's Sporting Goods Inc., has started an IT management consultancy, DCC Executive Consulting.
Janet Sherlock, CIO at Ralph Lauren Corp., will be the commencement speaker on May 4 for the Penn State College of Information Sciences and Technology.
Javier Polit, CIO at Procter & Gamble Co., will be the commencement speaker May 19 for the Quinnipiac University schools of business and engineering, in Hamden, Conn.
---
JOB OPENINGS
Job descriptions reveal the latest trends in digital business (links worked at time of publication)
Alliance Data Systems Corp., a Fortune 500 data-driven credit, marketing, and loyalty services company in Columbus, Ohio, is seeking a CIO for its credit-card operations.
Pluralsight Inc., a tech training company in Farmington, Utah, is seeking a CIO to handle "CRM, MarTech, data systems, billing & revenue systems, ERP, HRIS, financial planning, and forecasting systems," for about 1,100 employees.