Innovations at Warby Parker, Ryder, United, Aon
and other news for digital executives, by journalist Mitch Betts ▸ Two CIO Hall of Famers retire ▸ Systems that predict power outages, book sales ▸ CxO jobs & career moves ▸
Newsletter by Mitch Betts © Ampersand Reports 2019, all rights reserved.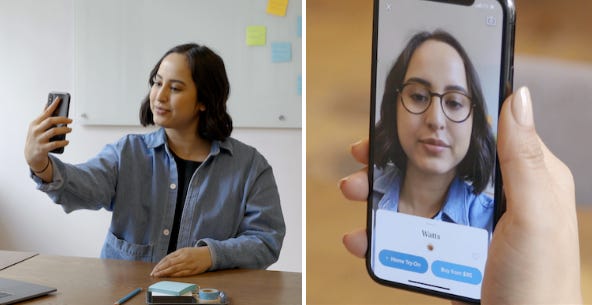 Photos: Courtesy of Warby Parker
Warby Parker's new mobile app combines AR and face mapping so users can try on virtual glasses
Warby Parker, a New York-based online retailer of prescription glasses & sunglasses, has added a Virtual Try-On tool to its iOS mobile app that lets customers find frames that fit their face shape using augmented reality technology.
A spokesperson explained the technology this way:
Using Apple's ARKit and TrueDepth camera technology, along with our own proprietary frame placement and fit system, we've developed an easy-to-use tool that allows you to try on eyeglasses — seeing the realistic color, texture, and size of each style — using just your iPhone X. Unlike eyewear applications that rely on two-dimensional photos — or let you arbitrarily resize frames — our Virtual Try-On tool determines how glasses truly fit on your three-dimensional face using accurate measurements and a proprietary method we call "unique placement." Our placement algorithm mimics the real-life process of placing a pair of frames on your face, taking into account how your unique facial features interact with the frame.
Virtual Try-On includes a photo-sharing option so users can get opinions of friends and family.
---
Two members of the CIO Hall of Fame retire
Chris Hjelm. The Kroger Co., in Cincinnati, announced that Chris Hjelm, EVP & CIO, will be succeeded by Yael Cosset, Kroger's Chief Digital Officer, effective May 1. Hjelm — a member of the CIO Hall of Fame (Class of 2014) — will remain EVP until his retirement on Aug. 1. Hjelm is known for innovative Kroger projects such as Scan, Bag, Go; ClickList; QueVision (for speeding up checkout wait times); and digital shelf-edge signage. Cosset will assume responsibility for the Kroger Technology function in addition to his current Kroger Digital portfolio. ▸ Related: Kroger elected Ashok Vemuri, CEO of a "digital interactions company," to the company's board of directors.
Bob Fecteau. Science Applications International Corp. (SAIC), based in Reston, Va., named Nathan Rogers as CIO, reporting to the CEO. Rogers has been CIO for Egility, which SAIC acquired earlier this year. He succeeds Robert ("Bob") Fecteau — a member of the CIO Hall of Fame (Class of 2018) — who retires from the company in April after serving as SAIC's CIO since the company's 2013 spinoff from former parent Leidos.
---
Who's doing what
Real digital activity in corporate America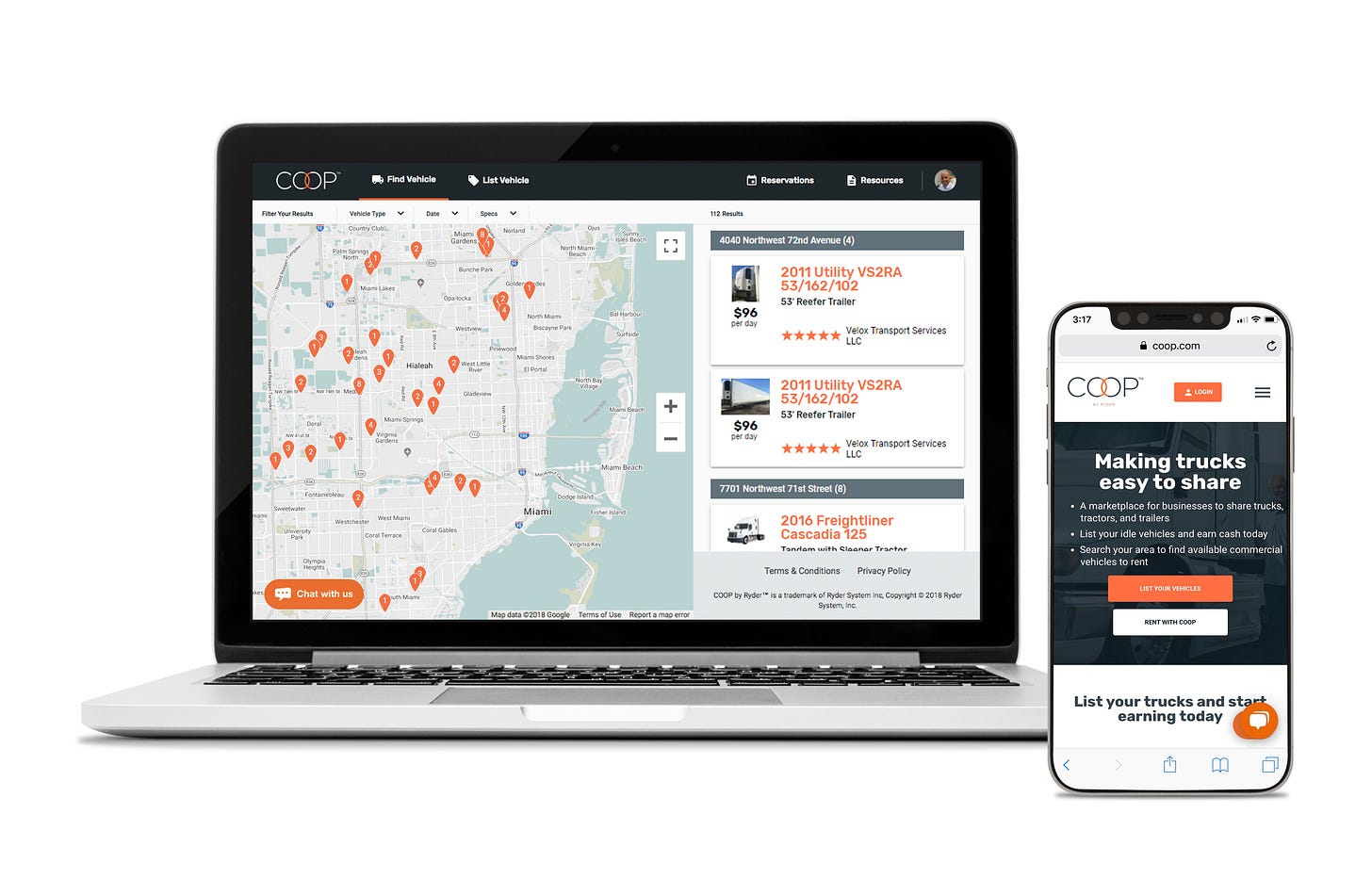 Photo: Ryder's digital truck-sharing platform, via Business Wire
Ryder System Inc., a Fortune 500 fleet management & supply chain company, has developed an innovative truck-sharing platform called COOP by Ryder. It allows fleet owners to generate revenue by sharing idle trucks & trailers with trusted peers, and provides a new source of rental vehicles. The peer-to-peer network was launched first in Atlanta and recently expanded to South Florida — a busy commercial region that is experiencing periodic truck shortages. The service includes 24/7 roadside assistance and free Uber rides to a pick-up location for borrowers. A mobile app is expected later this year.
TD Ameritrade Holding Corp. now offers retail investors in the U.S. financial market updates and research through Tencent's WeChat, a hugely popular Chinese mobile app used for messaging, social media, and mobile payments (it has 1 billion users). TD Ameritrade is the first U.S. brokerage firm to launch this kind of service on WeChat, according to Sunayna Tuteja, head of strategic partnerships and emerging technologies at TD Ameritrade. CEO Tim Hockey, in a Jan. 23 earnings call, explained the thinking behind the move:
The innovation in this past quarter was actually turning on WeChat, believe it or not in America, because we have not an insignificant number of clients of Asian descent that trade with us here in America and they communicate using the WeChat platform, which is not as predominant obviously here in America as it is in Asia, but there, it is integral to living your life using WeChat.
Aetna (part of CVS Health Corp.), Anthem Inc., Health Care Service Corp. (HCSC), PNC Bank, and IBM are teaming up to design & create a network using blockchain technology to drive data accuracy and digital transformation in the healthcare industry. The goals include reducing administrative errors; exchanging healthcare information in a secure fashion; promoting efficient claims & payment processing; and keeping accurate provider directories. The project leaders include Claus Jensen, CTO at Aetna; Rajeev Ronanki, chief digital officer of Anthem; and Steve Betts, CIO at HCSC.
United Airlines Inc. updated its mobile app by adding features such as dynamic boarding times, a personalized home screen (e.g., showing loyalty status), airport maps, a My Trips tab, and an inbox for notifications. "The home screen updates to give customers the most helpful information for each step of their travel journey," the company said.
Oncor Electric Delivery Co., the largest utility company in Texas, is using big-data analytics technology that predicts the risk of power outages caused by trees & plants interfering with power lines, and helps the utility manage tree-trimming programs. The technology, from IBM Research and The Weather Company, predicts vegetation growth by processing "massive, complex geospatial and time-based data sets collected by satellites, drones, aerial flights, millions of IoT sensors and weather models," according to the announcement.
Aon plc and insurtech firm Claim Central established a strategic alliance focused on digitizing and streamlining property & casualty insurance claim management and enhancing the customer experience. Claims Central's technology — which was successfully used following Hurricanes Harvey and Irma, when loss adjuster resources were scarce in Florida — includes live video streaming, aerial imagery, real-time chat, customer sentiment measures, and digital payments. "This means assessors do not need to be physically on the ground, making the process more efficient and ultimately improving the policyholder experience," the announcement said. Claim Central is opening an Innovation Center in Jacksonville, Fla., to run the digital platform and modernized workflows.
Midwest supermarket chain Hy-Vee Inc. is pilot-testing a unique mobile app, called Flashfood, that helps grocers reduce food waste by allowing shoppers to browse & purchase food items — e.g., meat, dairy, bread, and snacks — that are approaching their "best before" date, at significantly reduced prices.
---
Trends & Innovations
Threat, opportunity, or inspiration?
Search by shape. VizSeek is a shape-based search engine that can find technical drawings of industrial machinery by using a photograph or sketch of the actual machine or part — useful for identifying a replacement part, or searching online supplier catalogs based on the shape of the part.
New metric. The Societal ROI Index is designed to measure a company's reputation for social good. Leaders (in 2018): Wegmans Food Markets Inc., Patagonia Inc., and United Parcel Service Inc. The poll finds that Americans say data privacy is the No.1 social issue companies should be addressing, followed by access to healthcare, supporting veterans, education, and job creation.
C-store layout. The retail Space Productivity Optimization Tool analyzes the layout of convenience stores for making data-driven decisions about space allocation for consumer products. Metrics include category profitability per foot of space, category exposure, and traffic response rate.
Bestseller? Northeastern University has developed a machine learning program that predicts sales of hardcover books before release, based on factors such as fame of the author, previous cumulative sales for the author, genre and/or topic of the book, and seasonal fluctuations. (U.S. Patent Application No. 20190005519.)
---
Talent: jobs, appointments, career moves
Pier 1 Imports Inc., a retailer based in Fort Worth, Texas, appointed Lance Wills as EVP & CIO. Wills was EVP & Global Technology Officer at Toys "R"Us Inc. from 2016 to 2018. Wills replaces Bhargav Shah, who left the Pier 1 CIO role effective Nov. 30, 2018, and just recently joined One Technologies LLC in Dallas as SVP & CTO.
ABC. The still nameless healthcare company started by Amazon, Berkshire Hathaway and JPMorgan Chase has a new CTO: Serkan Kutan, the former CTO of Zocdoc Inc.
Reinsurance Group of America Inc. (RGA), based in St. Louis, appointed Steven Van Wyk to its board of directors. He is currently CIO and head of innovation at PNC Financial Services Group Inc. in Pittsburgh.
Flushing Financial Corp., in Uniondale, N.Y., appointed Michael Azarian to its board of directors, effective Feb. 26. Now retired, Azarian was once CIO of Citigroup's U.S. retail consumer & commercial technology groups.
Restaurant Brands International Inc., the parent company of Tim Hortons, Burger King, and Popeyes restaurants, promoted Josh Kobza to COO — adding HR, resources, supply chain, and business service functions to his existing oversight of technology. His previous title was Chief Technology & Development Officer, a role that included deploying kiosks, mobile apps, and point-of-sale systems.
Aflac Inc., in Columbus, Ga., named Richard Gilbert as SVP & Chief Digital Information Officer, reporting to the COO. "In this newly created role, Gilbert will oversee the new Digital Innovation office and will be responsible for driving Aflac's IT strategy," the company announcement said. Gilbert was previously an IT executive at DXC Technology, Hewlett Packard Enterprise Co., and SunTrust Bank.
Cardinal Health Inc., in Dublin, Ohio, named Brian Rice as CIO & EVP of customer support services, reporting to the CEO. He had a similar position at Kellogg Co.
Luby's Inc. — the parent of restaurant brands Luby's Cafeterias and Fuddruckers — nominated Twila Day, CIO of Huntsman Corp., a chemical manufacturer, to its board of directors, and she was subsequently approved at a shareholders election meeting after a proxy fight.
Parsons Corp., in Pasadena, Calif., named Stuart Kippelman as CIO. He previously was CIO at Platform Specialty Products Corp. and Covanta Energy Corp.
Job openings:
More digital executive news: