Stitch Fix game collects user data to improve algorithm
and more news for digital executives ▸ two female CIOs get board seats ▸ digital innovation labs proliferate ▸ developments at CarMax, Verizon, Domino's, Chase, global law firms ▸ CxO jobs and career news ▸
Newsletter by Mitch Betts © Ampersand Reports 2018, all rights reserved.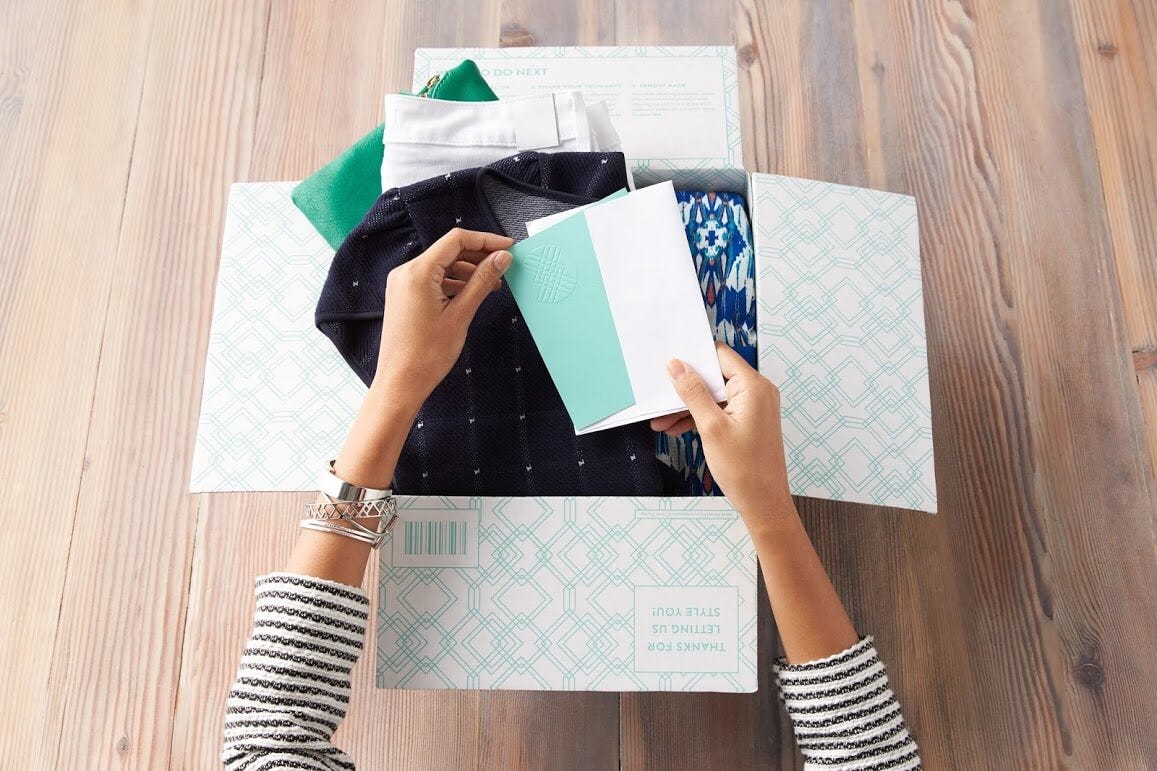 Stitch Fix delivers boxes of clothing selected to match the customer's style profile. Photo from Stitch Fix newsroom image gallery.
Style Shuffle, a Tinder-like game, collects data about clothing preferences to improve the Stitch Fix style-matching algorithm
Stitch Fix Inc. — a San Francisco-based company that uses a combination of human stylists and algorithms to send boxes of selected clothing to online shoppers — recently deployed a Tinder-like game to gather more data about consumer preferences.
Company executives say the game, called Style Shuffle, is already improving the company's style-matching capabilities — and the bottom line.
Customers can play the game on the company's website, the Stitch Fix iOS mobile app, or Facebook Messenger. They see a series of clothing items, and give each one either a thumbs-up or a thumbs-down. The initial goal is to help Stitch Fix better understand the customer's style.
"This game enables us to collect significantly more client preference data on each apparel item than we could have before the game was introduced, and allows us to improve our personalization capabilities," said COO Mike Smith, on a recent earnings call with investment analysts.
But that's not all. The new data not only helps improve the clothing matches for the customer who plays the game; the data is also useful more broadly. "We've begun leveraging the Style Shuffle data to enhance the overall client experience and drive business results," Smith said. He continued:
In Q4, we began incorporating the data into our women's stylist/client matching algorithm, which drove an increase in average order value as compared to the prior algorithm. Style Shuffle data not only improves outcomes for clients who play the game, it also helps us better serve those who have not yet played. In Q4 of '18, we used the data to increase revenue per client and engagement among both playing and non-playing clients, which we believe highlights the network effects of our data and the broad applicability of this Style Shuffle data.
"We're seeing clients are keeping more items when they're playing the game, and they spend more with us over the course of the year," said CTO Cathy Polinsky in a June interview with Xconomy.
Customers fill out detailed questionnaires about their style preferences — there are 85 questions [including] sizes [and] parts of the body one would like to camouflage. But those customers receive, at most, 12 [boxes] a year, with about five items apiece. That means the ongoing customer feedback results in only about 60 data points. The game, Polinsky says, gives the company dozens of [additional] data points from a single encounter.
---
Who's doing what
CarMax, based in Richmond, Va., "began testing an online appraisal estimator in 10 stores in August. After answering just a few questions, the online estimator provides customers with the opportunity to quickly receive an approximate offer on their vehicle. While the offer is an estimate, it is based on actual CarMax appraisal data," said CEO Bill Nash, in a call with investment analysts.
The CIOs at 12 giant law firms — such as Clifford Chance, and Latham & Watkins — are banding together to encourage vendors to adopt standardized, interoperable, containerized applications that could be deployed on the law firms' private clouds or data centers. (Law firms dislike public clouds because of the need to keep client data confidential.) The CIO consortium supports a legal tech startup called Reynen Court LLC, which is creating a platform to allow law firms to quickly deploy legal tech apps such as contract analysis, discovery, and practice management. — Roy Storm, The American Lawyer
Verizon Comunications Inc., in a major downsizing move, offered voluntary severance packages to about 44,000 employees, and, separately, notified many IT employees that they were being transferred to Infosys Ltd. as part of a $700 million outsourcing deal. — Sarah Krouse, The Wall Street Journal
Domino's Pizza Inc. said it has enhanced its mobile app with a "virtual dinner bell" that alerts the smartphones of family & friends (who have been invited to join the "dinner bell group") that the pizza has arrived. "Let's face it, sometimes yelling at everyone that pizza is here just doesn't work," said Dennis Maloney, Domino's chief digital officer.
Chase Card Services (part of JPMorgan Chase & Co.) launched a lock/unlock feature on its mobile app and website that lets customers temporarily turn off their Chase credit cards, stopping them from being used by when misplaced. The feature blocks new purchases, cash advances, and balance transfers. Once the card is found, customers can unlock it via the mobile app or website. If the card isn't found, customers can request a new card.
---
Photo:

Northwestern Mutual's new innovation lab is set up for hackathons and collaboration with startups
Digital innovation labs proliferate
More and more digital executives are creating technology hubs and innovation labs as places for IT staffers and business partners to collaborate on solving business problems and identify tech-enabled business opportunities. The modern office spaces — with employee-pleasing amenities — are also intended to help retain and attract tech talent, such as hard-to-find data scientists.
Recent developments:
Insurance company Northwestern Mutual announced the grand opening of its innovation lab, Cream City Labs, located at the company's downtown Milwaukee headquarters. The lab is designed to advance innovation, ideation, and experimentation for employees and local startups, according to Karl Gouverneur, vice president of digital workplace, corporate solutions and head of digital innovation at Northwestern Mutual.
Retailer H-E-B Grocery Co. announced plans to develop a "world-class tech facility and innovation lab" in Austin, Texas, for its digital business unit.
Kroger Co. plans to open a retail tech innovation lab at the University of Cincinnati to feed the company's talent pipeline, according to a statement by Kroger CIO Chris Hjelm.
Estée Lauder Companies Inc. moved most of its New York-area IT staff to a "technology hub" in an up-and-coming Long Island City neighborhood to encourage collaboration and innovation, CIO Michael Smith said in an interview with CIO Dive. He explained:
The office space has conference rooms, breakout rooms (for those daily "scrum' meetings), impromptu meeting spaces, social gathering spots (with food pantries), and top-notch audiovisual and collaboration technologies, Smith said.

"We put in retail labs, innovation labs, analytics labs. They're designed to create immersive experiences and foster experimentation, so that we can use this as a place to incubate new innovations, new ideas," he said. "It's an elevated employee experience."
---
Talent: jobs, appointments, careers
Two female CIOs recently landed board seats:
Insurance company MetLife Inc. said Diana McKenzie — the CIO at Workday Inc. since 2016 — was elected to MetLife's board of directors, effective Nov. 1. McKenzie was previously CIO at Amgen Inc.
C.H. Robinson Worldwide Inc. — one of the largest third-party logistics providers — announced that its board of directors appointed Paula Tolliver as a new director. The Fortune 500 company is based in Eden Prairie, Minn. Tolliver serves as CIO at Intel Corp. (since 2016), after a long career (including CIO) at The Dow Chemical Co.
Job opening: D'Addario & Co. Inc. — which makes accessories (especially strings) for musical instruments — is seeking a CIO, in Farmingdale, N.Y. Among other things, the company needs a "completely new and modern website."
Recent appointments of digital executives: