Tech talent market tightens; AI speeds up the beer line
and other news for & about digital executives, by journalist Mitch Betts ▸ Data breach settlement ▸ Insurers test blockchain ▸ 'Pepper' the bank robot ▸ More CIOs on boards ▸ CxO career moves ▸
Newsletter by Mitch Betts © Ampersand Reports 2019, all rights reserved.
Hello, and welcome to another edition of Digital Business, a newsletter about real digital activity in corporate America, and the executives making it happen. If you think this is valuable market intelligence, please urge your network to sign up here. Thanks for reading.
— Mitch
NEWS
The tech talent crunch is real. The unemployment rate for technology occupations in the U.S. fell to a 20-year low of 1.3%, according to CompTIA's analysis of U.S. Bureau of Labor Statistics data. "The data confirms what employers have been saying for months and even years — the demand for tech talent has reached historic levels," said Tim Herbert, EVP for research & market intelligence at CompTIA. Herbert added:
"There is now the very real prospect of tech worker shortages affecting industry growth. Firms seeking to expand into new areas such as the Internet of Things, robotic process automation or artificial intelligence may be inhibited by a lack of workers with these advanced skills, not to mention shortages in the complementary areas of technology infrastructure and cybersecurity."
Walmart Inc. news:
Walmart is absorbing Jet.com staffers into the rest of its e-commerce operations, winding down the startup it bought for $3.3 billion three years ago, although the Jet.com website will continue. — Sarah Nassauer, Wall Street Journal

Walmart hired Scott Eckert to run its tech startup incubator, Store No. 8. Eckert, as SVP of Next-Generation Retail, reports to Marc Lore, who heads Walmart's U.S. e-commerce unit. Store No. 8 specializes in working with startups developing robotics, virtual & augmented reality, machine learning, and artificial intelligence. — Ben Unglesbee, Retail Dive
Anatomy of a data breach class-action settlement. Premera Blue Cross, a nonprofit health insurance company based near Seattle, was the victim of a cyberattack in May 2014 that exposed the personal information of 10.6 million individuals, including names, dates of birth, Social Security numbers, and health information. A class-action lawsuit filed on behalf of affected consumers appears to be winding down, with a proposed settlement that includes the following provisions:
Premera has agreed to pay $32 million to resolve the litigation. Those funds will pay for an additional two years of premium credit monitoring, and identity protection services, out-of-pocket losses, and cash payments to all class members who make a claim. The fund also will pay for administrative costs related to the settlement, including attorneys' fees.

Premera has agreed to guarantee a minimum of $42 million in funding for its information security program over the next three years, and implement and/or maintain a number of specific changes to its information security practices, including:

• Encrypting certain personal information;
• Strengthening specified data security controls;
• Increased network monitoring and logging of monitored activity;
• Annual third-party security audits;
• Stronger passwords, reduced employee access to sensitive data, and enhanced email protections; and
• Moving certain data into archived databases with strict access controls.
Mark Gregory, Premera's EVP & CIO, said: "We are pleased to be putting this litigation behind us, and to be providing additional substantial benefits to individuals whose data was potentially accessed during the cyberattack." He noted that Premera "recently achieved an industry-leading HITRUST certification, demonstrating its ability to identify risks, protect assets, detect attacks, and respond and restore capabilities should the need arise."
▸ Related: Credit monitoring company Moody's Corp. slashed its rating outlook on Equifax Inc. from stable to negative — the first time cybersecurity issues have been cited as the reason for a downgrade. Equifax continues to suffer from a massive 2017 breach of consumer data.
▸ Recently reported security/privacy incidents: ▸ U.S. Customs and Border Protection ▸ Tech Data Corp. ▸ Quest Diagnostics Inc. & Laboratory Corp. of America Holdings (LabCorp), via American Medical Collection Agency ▸ Flipboard
---
WHO'S DOING WHAT
Real digital activity in corporate America
Algorithm matches call-center rep to caller. G6 Hospitality LLC, the parent company of Motel 6, has adopted AI technology from Afiniti Inc. that connects callers to the customer-service agent most likely to make a sale. The algorithm uses the caller's phone number to access personal data from various data brokers and, within 50 milliseconds, matches the caller to the available agent who has had the most sales & bookings with similar callers. G6 has been using the technology since November and has seen a 4% revenue increase at its call center. — John Murawski, WSJ Pro AI

AI speeds up the ballpark's beer line. Aramark Corp. has made paying for drinks at baseball stadium concession stands easier & faster by using AI-enhanced, self-service kiosks. Patrons place their beverages on the scanner (photo, above), which uses computer vision technology to recognize multiple items (not bar codes) for payment. The technology produces 40% faster transactions and up to 25% higher sales, says Mike Giresi, Aramark's SVP & chief digital information officer.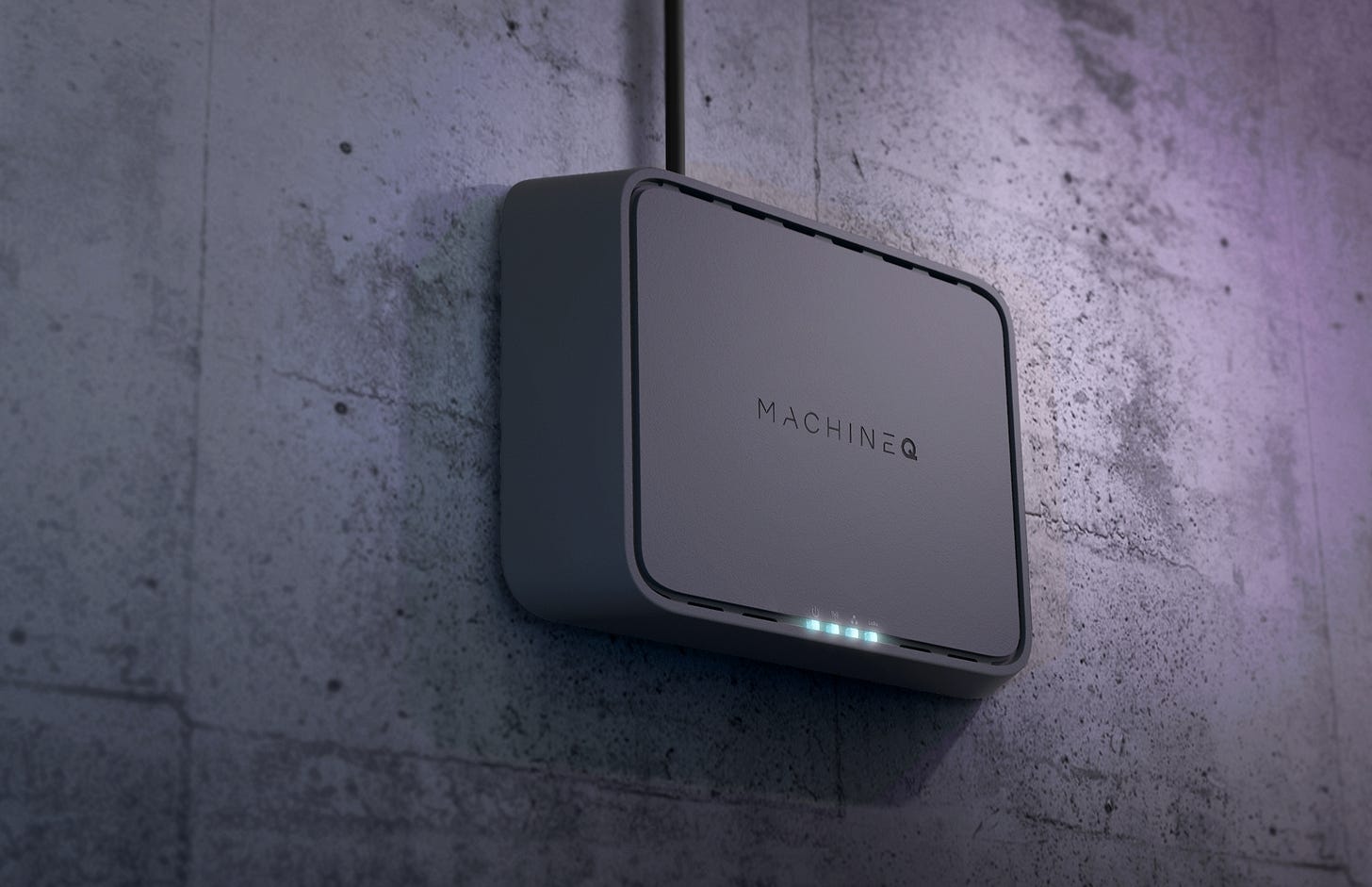 Sensors galore at Universal Orlando Resort. Universal Parks & Resorts in Orlando, Fla., is deploying an enterprise Internet of Things service, called MachineQ, which uses low-power, wide-area networking (LPWAN) technology and wireless sensors to monitor assets & operations from a digital dasboard. CIO Bill McCorey said that sensors affixed to park assets can help operations teams monitor or control food refrigeration units, fleet vehicles, and utility meters. Future applications could include tracking mobile assets like golf carts, and detecting water leaks. MachineQ is a hardware & sofware product of Universal's parent company, Comcast Corp.
Major insurers test blockchain. Insurance companies State Farm and USAA are using real claims data to test how blockchain technology could speed up the auto claims subrogation process. Subrogation is when one insurance company recovers the costs it paid to its customer for damages from the other party's insurance company.
Automating an expensive, manual process. "Today, subrogation is a relatively manual, time-consuming process often requiring physical checks to be mailed on a claim-by-claim basis between insurers," said Mike Fields, innovation executive at State Farm. USAA and State Farm are testing how blockchain could securely & automatically compile all subrogation payment amounts, net the balance, and facilitate a single payment on a regular basis between insurers. Blockchain would also create a permanent record of transactions and could allow consumers to receive their deductible reimbursement faster, said Ramon Lopez, VP of innovation at USAA.
Finn banking app is finished. JPMorgan Chase & Co. is killing an experiment to attract younger customers to a new digital-banking app a year after making it available nationwide. JP Morgan is shutting down Finn, a no-fee banking app, and transferring users' funds to new Chase checking & savings accounts. — David Benoit & Peter Rudegeair, Wall Street Journal
XPO touts rapid adoption of its mobile app. XPO Logistics Inc., based in Greenwich, Conn., reports that more than 22,000 U.S. carriers are registered users of its Drive XPO carrier app, which debuted 13 months ago. Commercial truck drivers use the free app to search for loads on XPO Connect, the company's digital freight marketplace platform. CIO Mario Harek attributed the app's success to "high user satisfaction with the XPO digital experience and the quality of ongoing enhancements."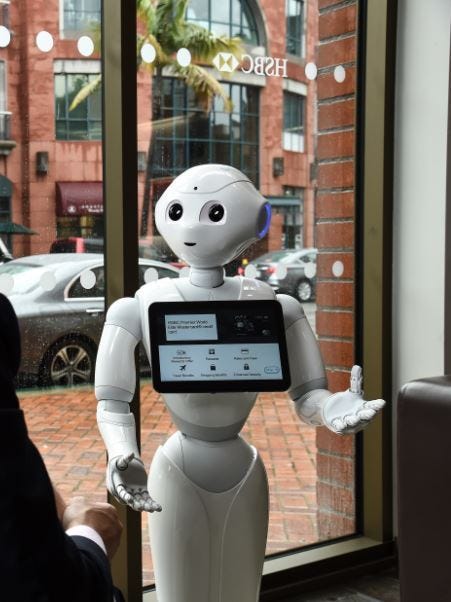 Robot "Pepper" is ready to engage. HSBC Bank USA continues to deploy humanoid robots, called Pepper, as bank lobby attendants (photo, above). To date, Pepper has been installed at branches in New York, Seattle, Beverly Hills (Calif.), and Miami. HSBC said the robots can handle the following tasks:
Communicate directly with bank staff based on customers' answers to qualifying questions. The goal is to reduce customer waiting time and free up the time of skilled bankers to deliver a more personalized service.

Provide information about ATMs, the HSBC mobile banking app, and self-service options.

Promote awareness of HSBC products & services, including special promotions.
Enterprise IT gives back to the open-source community. TD Ameritrade Holding Corp. has released STUMPY — a code library to identify patterns & anomalies in time-series data — to the open-source software community. CIO Vijay Sankaran said TD Ameritrade has benefited from open-source software for many years, and is pleased to have made its first contribution back to the community, with more to come.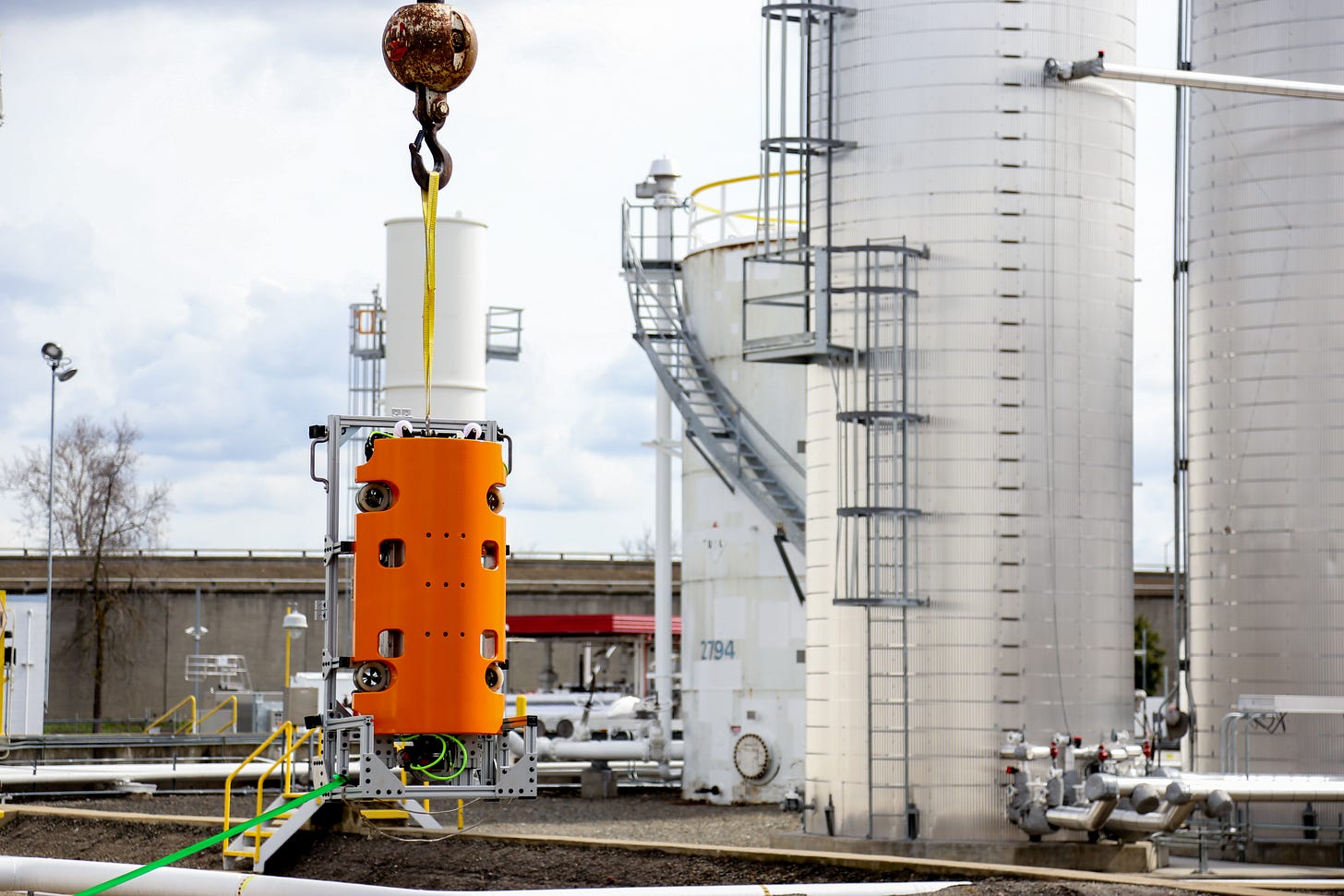 Energy provider Phillips 66 Co. has deployed an autonomous robot that safely inspects the interior of a diesel storage tank — with the fuel still in it. The robot (colored orange in the photo above) evaluates the tank's "bottom integrity without draining product, [which] saves significant expense and reduces the need for personnel to enter tanks. The robot also captures high-clarity visual images of the interior and provides insight into the tank's sediment levels and coating condition."
Briefly noted:
---
PEOPLE
Appointments, promotions, transitions
Nike Inc., based in Beaverton, Ore., hired Ratnakar Lavu as the company's first Global Chief Digital Information Officer, effective June 17, reporting to the COO. Lavu was previously Chief Technology & Information Officer at retailer Kohl's Corp., and CTO at Redbox Automated Retail LLC.
Forescout Technologies Inc., a cybersecurity vendor based in San Jose, Calif., appointed Kathy McElligott and Elizabeth Hackenson to its board of directors. McElligott currently serves as EVP & CIO & CTO of McKesson Corp. Hackenson currently serves as CIO of Schneider Electric SE. Both were inducted to the CIO Hall of Fame (Hackenson in 2014 and McElligott in 2019).
Jacobs Engineering Group Inc., based in Dallas, elected Georgette Kiser to the company's board of directors. She was CIO & Managing Director at The Carlyle Group LP.
Jack Levis, senior director of process management at United Parcel Service Inc. (UPS), announced on LinkedIn that he's retiring from UPS at the end of June — after more than 42 years at the company (he started as a package loader in 1976) and numerous awards for accomplishments in IT, advanced analytics, and operations research. He's most closely associated with the award-winning Orion route optimization system for UPS pickups & deliveries.
Wells Fargo & Co., based in San Francisco, named Debra Chrapaty as CTO, making permanent a role she held on an interim basis since May. She will continue reporting to Saul Van Beurden, Head of Technology at Wells Fargo. Chrapaty will lead software development, platform services, and enterprise architecture.
Golden Entertainment Inc., a casino & gaming company based in Las Vegas, said Ann Dozier was elected to the company's board of directors. She currently serves as SVP & CIO at Southern Glazer's Wine and Spirits LLC.
Retailer Lands' End Inc., based in Dodgeville, Wis., announced that it has appointed Sarah Rasmusen, the company's current SVP of E-commerce, to the newly created position of Chief Customer Officer ("across all selling channels").
RTW Retailwinds Inc., a New York-based apparel retail company, appointed Traci Inglis as President, Chief Marketing & Customer Officer, reporting to the CEO. She will "oversee all aspects of the Company's marketing and digital initiatives, including e-commerce operations, CRM and performance marketing, loyalty, strategy and customer insights, and data analytics," the company said.
Petco Animal Supplies Inc., based in San Diego, hired Darren MacDonald as Chief Digital & Innovation Officer. He will be "overseeing all aspects of the company's digital business, including e-commerce, the Petco app, prescription fulfillment and a growing employer wellness benefits offering, while driving a continued focus on incubating new ideas and furthering innovation across the company."
Med One Group, in Sandy, Utah, appointed Leslie Snavely to the company's board of directors. Snavely is the Chief Digital Officer at CHG Healthcare Services Inc.
Cloud software vendor Nutanix Inc., in San Jose, Calif., appointed Brian Stevens — most recently CTO of Google Cloud — to the Nutanix board of directors.
Blue Apron Holdings Inc., in New York, hired Irina Krechmer as CTO, starting June 17 and reporting to the CEO. She will be in charge of "all aspects of the company's technology strategy." Krechmer was previously VP of Engineering at XO Group Inc.
Global packaging company TricorBraun Inc., based in St. Louis, hired Brett Hecker to replace Doug Bolen as CIO, reporting to the CEO. Hecker was a divisional CIO at Honeywell International.
iHeartMedia Inc., based in New York, named Andrew Dahm as Chief Privacy Officer, working closely with global CIO Steve Mills and global CISO David Neuman.
American Woodmark Corp., in Winchester, Va., hired Bill Waszak as CIO, according to a company email. He was previously CIO at The AZEK Company LLC and at The Scotts Miracle-Gro Company.
More recent appointments & promotions: ▸ Dennis Mochal, EVP & CIO at Heartland Financial USA Inc. in Dubuque, Iowa ▸ Jeff Dirks, Chief Information & Technology Officer at TrueBlue Inc. in Tacoma, Wash., (succeeding retiring CTO Carole McCluskey) ▸ Anthony ("Tony") Gallardy, EVP & CIO at Navy Federal Credit Union (the world's largest credit union), in Vienna, Va. (succeeding retiring CIO Bill Hills) ▸ Ty Tastepe, SVP, Chief Information & Digital Officer at retailer fashion retailer Altar'd State, in Maryville, Tenn. ▸ Jeff Sidell, CTO at Regulatory DataCorp Inc. (RDC), in King of Prussia, Pa. ▸ Paul Vancheri, EVP of Technology at LoanLogics Inc., in Trevose, Pa. ▸ Jon Morgan, CIO at Eyecare Services Partners (ESP) in Dallas ▸ Carl Nelor, Chief Information Security Officer at Bank Leumi USA in New York ▸ Debra Goetz, Chief Brand & Digital Officer at Vyaire Medical Inc. in Chicago ▸ Hal Danziger, Head of Next-Gen Platforms at The NPD Group Inc. (reporting to Chief Data Strategy Officer Darren Person), in Port Washington, N.Y. ▸ Fred Kauber, CTO & Chief Product Officer at Business Financial Services Inc. (dba BFS Capital) in Coral Springs, Fla. ▸ Dan Iantorno, CIO at Discovery Health Partners in Itasca, Ill. ▸ Mike Dow, CIO at Tilson Technology Management in Portland, Maine ▸ Jason Myers, CIO at Medhost Inc. in Franklin, Tenn. ▸ Todd Hartline, VP of IT at ICW Group Insurance Cos. in San Diego ▸ Todd Sims, VP of IT at Silver Airways and Seaborne Airlines, in Fort Lauderdale, Fla. ▸ Douglas Penstone-Smith, VP of Retail & E-commerce at Yamaha Corp. of America, in Buena Park, Calif. ▸ Brett Lansing, SVP & CIO (reporting to CTO Dan Speicher) at Medecision, in Dallas ▸ Ian Worden, CIO at Matrix Medical Network, in Scottdale, Ariz. ▸ Srihari Hosahalli, CIO at vCom Solutions Inc., in San Ramon, Calif. ▸ Claudius Moore, VP of IT at American Family Care, in Birmingham, Ala. ▸ Ray Estevez, Chief Data Officer at True Influence LLC, in Princeton, N.J. ▸ Adam Mirkovich, CIO at True Drinks Holdings Inc. in Costa Mesa, Calif. ▸ Scott Hicks, CIO at TDn2K (Transforming Data into Knowledge) in Dallas.
In memoriam. Allan Oliver ("Al") Baldwin died May 21 at age 71, in Oak Park, Ill. Before retirement, he was VP of IT at Loyola University Chicago. Prior to that, he was CIO at the University of Illinois Medical Center, where he was instrumental in developing & implementing one of the first electronic medical record systems.
---
JOB OPENINGS
Job descriptions reveal the latest trends in digital business (links worked at time of publication)
Cruise operator Holland America Group is seeking an SVP & CIO in Santa Clarita, Calif. Expect long hours and weekend work for a 24/7 global operation — offset by "cruise & travel privileges for you & your family."
Sony Pictures Entertainment, in Culver City, Calif., is seeking an Executive Director for its Corporate IT Business Relationship Management (BRM) team to ensure HR projects successfully meet business needs. Must have experience with HR systems, especially Workday.
LendingClub Corp., in San Francisco, is seeking a Chief Data Officer, reporting to the Chief Risk Officer — with a heavy emphasis on "data governance policies, standards, and practices" for data consistency & quality.
Integra Partners, a "tech-enabled, healthcare benefit management company" in New York, is seeking a hands-on CTO. "Healthcare industry experience is required."
Exactech Inc. — which "develops & produces innovative bone & joint restoration products" for surgeons — is seeking a CIO in Gainesville, Fla.
Beachbody LLC, based in Santa Monica, Calif., is seeking a VP of Technology Operations, and is also seeking a VP in charge of IT's Program Management Office (PMO).