This is what underinvestment looks like
and other news for digital executives, by journalist Mitch Betts ▸ Digital initiatives at Lowe's, Jo-Ann Stores, Honeywell, Allstate ▸ Trends & innovations ▸ CxO jobs & career moves ▸
Newsletter by Mitch Betts © Ampersand Reports 2018, all rights reserved.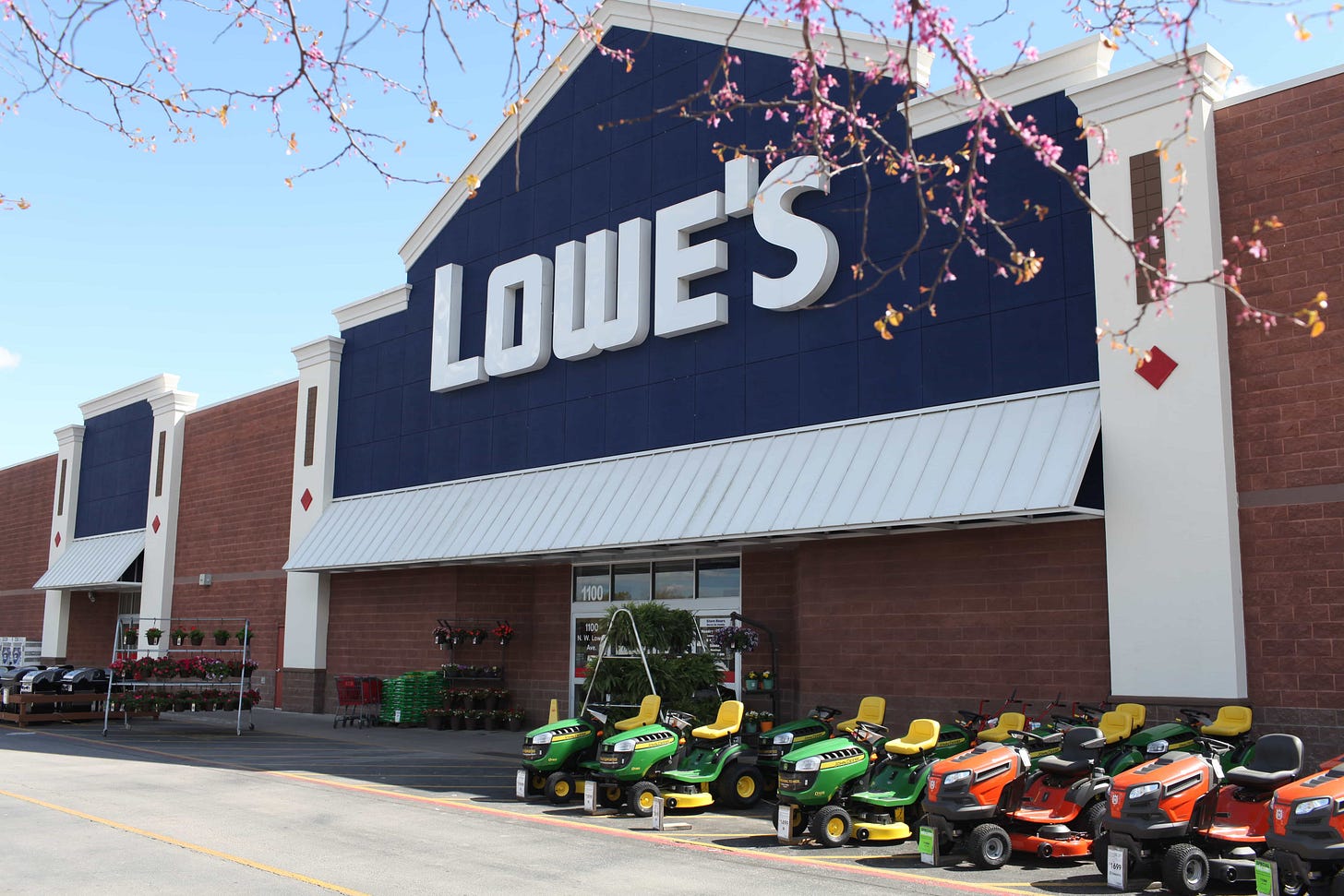 The C-suite at Lowe's candidly reveals how the retailer 'failed to keep up with advancements in e-commerce, IT, and supply chain'
Marvin Ellison, who joined Lowe's Companies Inc. as CEO in July, quickly dispensed with the usual happy-talk — "a terrific company with an outstanding brand" — at Lowe's annual Analyst and Investor Conference on Dec. 12. He then plunged into a critique of what he'd learned about the retailer in the past six months.
Ellison said Lowe's had "lost its way … failed to keep up with advancements in e-commerce, IT, and supply chain … [and] put our associates at a competitive disadvantage with outdated and cumbersome systems."
He then mentioned the fact that two weeks prior, "our challenging IT infrastructure was evident on Black Friday when we experienced system outages. This system failure presented to the outside world what our associates deal with on a daily basis. It was an embarrassing moment for the company, but one that presented our current state to the world."
Ellison then offered an anecdote about how Lowe's handles big installation projects for customers:
While I was visiting a store recently, I posed a question to a group of associates. I said, okay, I am a customer. I am buying flooring, cabinets, countertops, a suite of appliances, so that kind of equals a kitchen remodel. So I said to the team how do we manage this kitchen project for the customer? So, you want to know what the associates showed me as our project management system? A dry erase board in the back of the store. So after I got past the shock, I had a follow-up question. I said, well, the customer didn't have a dry erase board. So how did they keep track of the project? Their answer, well, Marvin, we give them a binder. So dry erase boards and binders as a project management system. [It's] hard to believe that a retailer our size with our balance sheet is working with these systems in 2018. But this is the position we put our associates in. So, the question I asked myself is, how much would our sales and customer engagement improve with modern systems?
Ellison wasn't the only Lowe's executive with stinging critiques. Joe McFarland, Ellison's hand-picked EVP for stores, said he found that Lowe's "order management systems were archaic, split between multiple platforms that didn't speak to each other and didn't properly connect back through our supply chain, so they didn't have an accurate view of available inventory."
The labor scheduling system? "The current system is antiquated, ineffective and does not properly predict labor trends," McFarland said. "It generates schedules 13 weeks in advance and does not schedule labor hours to align with customer demand patterns by department. This has resulted in significant ineffectiveness as well as wasted time for managers overriding and editing the schedules." He said Lowe's is now implementing a new scheduling system "informed by customer data to better predict customer demand by time of day, day of week, and by department."
The point-of-sale systems? "We are replacing a cumbersome, outdated, green screen with a graphical, modernized, intuitive selling interface to make it easier for our associates to navigate — and faster for us to train new hires and seasonal associates," McFarland said. ("As we hire new cashiers," he noted, "a lot of them have never seen green screens before.") And the new touch-screen interface may shave 10 seconds off of every transaction," McFarland said.
As previously reported, Lowe's is also rolling out handheld devices for mobile checkout by associates in the aisles; the retail-specific smartphones, from Zebra Technologies, "will be in all stores by the end of March," McFarland said.
Finally, Seemantini Godbole, the new CIO at Lowe's, provided her deep-dive assessment after four weeks on the job:
What I found is that Lowe's technology is well behind leading retailers in terms of strategy, architecture, process maturity and capabilities. Our store and supply chain systems were developed in the '90s, while our merchandising, pricing and digital systems are rooted in early 2000s. Only our back-office system really measures up to current standards, and that's obviously not ideal for a customer-facing organization. Leading retailers have modernized their technology platforms and advanced their digital capabilities through investment in software engineers and targeted acquisitions. However, at Lowe's we have historically under-invested in talent and technology, opting instead to use off-the-shelf software packages and then heavily customizing them, resulting in poor integration, difficult upgrades and slow responses to business needs.

Inconsistent leadership, evidenced by the rotation of five CIOs in last eight years, [led to] an inconsistent strategy and low accountability, which in turn delivered poor results.
Godbole then sketched a plan to invest "$500 million to $550 million in capital per year through 2021" to produce modern, omnichannel retail systems. The plan includes:
In closing, CEO Ellison said "some of you maybe disappointed that we are not going to spend time today updating you on our strategies to leverage virtual reality in the home, [or] by outlining the importance that artificial intelligence will play in our decision-making. Don't be concerned, these are very important elements of our current and our future strategy." But Ellison said he thought it was more important to provide a "transparent view" of "our immediate plans to improve our retail fundamentals."
---
Who's doing what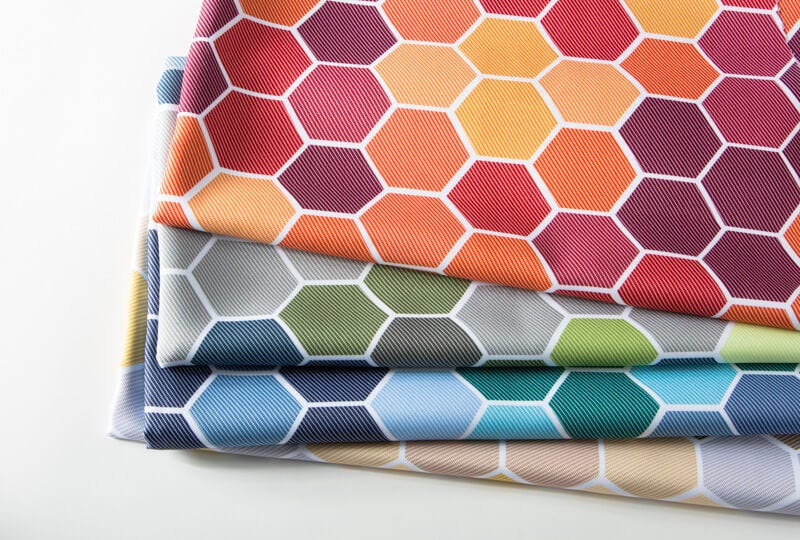 Photo: Custom-designed fabrics, via Jo-Ann Stores / Business Wire
Jo-Ann Stores LLC launched an online program, MyFabric, that lets customers personalize the design of sewing fabrics. Customers can select from thousands of designer patterns; customize the color, scale and repeat of the pattern; and choose from dozens of high-quality fabric substrates, the retailer said.
Honeywell Aerospace has set up a website for buying & selling aircraft parts. The e-commerce platform, GoDirect Trade, "uses blockchain technology to ensure every listing includes images and quality documents for the exact part being offered for sale," the company said.
Allstate Insurance Co. plans to use high-resolution, aerial images of housing for multiple applications: writing & pricing new home insurance policies; looking at initial damage to homes; and mobilizing agents after disasters, according to Eric Huls, Allstate's chief data & analytics officer.
---
Trends & Innovations
The No.1 target for artificial intelligence software development? ERP. In a survey of application developers, 58% said they're adding AI capability to their ERP software. — Evans Data Corp.
Retailers are encouraging consumers to use their "branded digital wallets" for mobile app payments via the ACH network, hoping to bypass the $90 billion in fees retailers pay for credit-card transactions. — Jennifer Surane, Bloomberg News
Northern Trust Corp., a financial services company based in Chicago, has developed a blockchain-based system for creating an "immutable digital meeting record." The Web-based meeting system authenticates participants via biometric data from their devices; captures meeting actions by each attendee; attaches smart contracts; and produces post-meeting documentation appended to the blockchain. (U.S. Patent No. 10,146,947)
The scarcity of warehouses near population centers makes it difficult for online sellers to meet customer expectations for speedy delivery. That's triggering a land grab for smaller fulfillment centers in densely populated areas — even garages and unused lots — so that companies can package up orders as close to the "last mile" as possible. — Erica E. Phillips, The Wall Street Journal
---
Talent: jobs, appointments, careers
Digital executives appointed to the board:
Job openings:
Digital executive career moves: